Acklam Wold
Bronze Age Barrow Cemetery
East of Acklam Village, North Yorkshire OS Map Ref SE79636231
OS Maps - Landranger 100 (Malton & Pickering), Explorer 300 (Howardian Hills & Malton)
---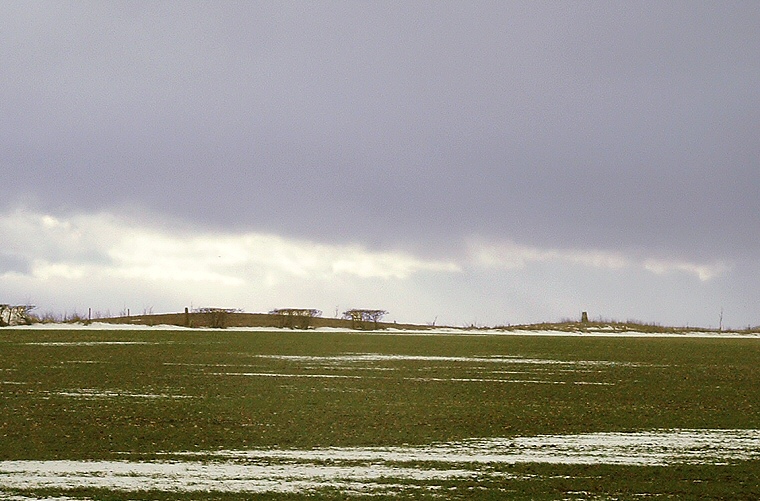 This
Bronze Age
Round Barrow
cemetery was extensively documented in the 19th century when seventeen barrows were recorded and excavated by the Yorkshire Antiquarian Club during the middle of the century and then by J.R. Mortimer in the 1870's.
All the barrows were found to contain either cremations or inhumations of men, women and children. Grave goods recovered during the excavations included an 18.5 centimetre white
flint
dagger, a 12.7 centimetre
bronze
dagger,
beakers
,
jet
buttons,
amber
buttons and a jet ring.
Sadly there is now little to see of the cemetery at Acklam Wold as most of the barrows have been ploughed away although there are two reasonably well preserved bowl barrows (photograph above) at roughly SE796623 behind some farm buildings at Highfield Farm. The one to the left is around 40 metres in diameter and about a metre and a half high and stands on the highest point of Acklam Wold while nearby the other barrow is about half the size and height and now has a triangulation pillar on top of it.
Just a little further down the road towards Acklam there are some fantastic views as the land drops away to reveal Leavening Brow to the northwest and views to the Derwent in the west and it could be that these views may have been important in the choice of location for the barrow cemetery.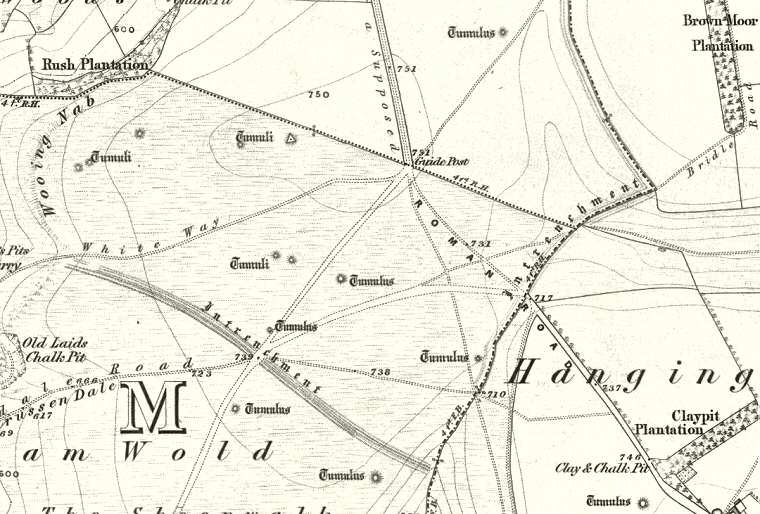 OS Map from 1855 showing thirteen of the barrows of the Acklam Wold group. The barrows shown in the photograph are the pair to the upper left of centre below the spot-height of 750, one below the word 'Tumuli' the other covered by the small triangle - the symbol for a triangulation pillar.
Map reproduced with the permission of the National Library of Scotland.

Back to Map | Home | Full Glossary | Links | Email: chriscollyer@stone-circles.org.uk