Bamford Moor Circle
Bronze Age Stone Circle
North East of Bamford, Derbyshire OS Map Ref SK22118453
OS Maps - Landranger 110 (Sheffield & Huddersfield), Explorer OL1 (The Peak District - Dark Peak Area)
---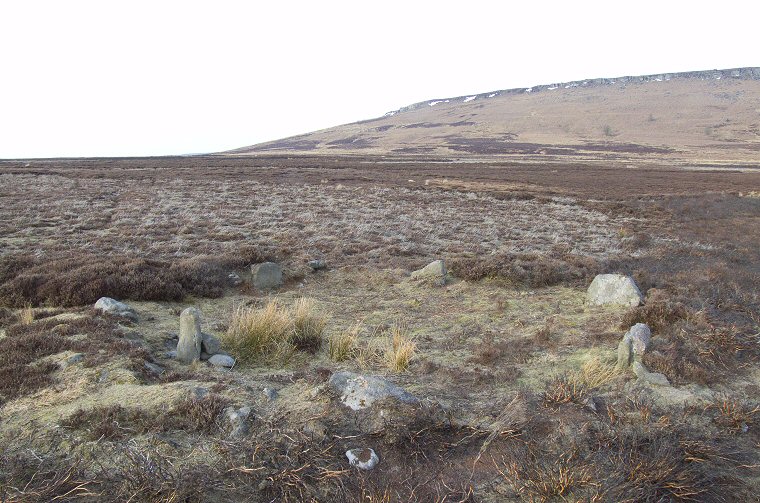 Looking north towards the Crow Chin area of Stanage Edge. March 2009

This
stone circle
can be tricky to find on this rather featureless part of Bamford Moor. Set on a small levelled platform on a gently eastward slope towards the southeastern edge of the moor the small size of the circle and low height of the stones mean that you have to be quite close to the circle before it becomes apparent. When it does it reveals itself to be a lovely little site with six stones of about half a metre in height set into the inner edge of a earth embankment. The diameter of the ring of stones is about 8 metres by 7 metres with the embankment extending between 1.5 to 2 metres beyond while English Heritage suggest that there may also have been some kind of kerb or retaining wall.
The circle offer some fantastic views from the north round to the southeast taking in High Neb and Stanage Edge and it it quite possible that this was taken into consideration by the circle builders although the close proximity of several
cairnfields
(presumably of a contemporary date) may have been more important.
Just less than 200 metres away to the north-northwest at SK22018469 is a fallen standing stone known as the
Old Woman Stone
which may have formed an
outlier
to the stone circle. This highly fluted stone would have measured over 2 metres tall and amazingly stood until the early 20th century when it was felled to prevent its use as a way marker by ramblers over the moor, which is private land. You can now wander across the moor under the Countryside and Rights of Way (CRoW) Act but please be aware restrictions may apply at certain times of the year to protect nesting birds.
Date :
Bronze Age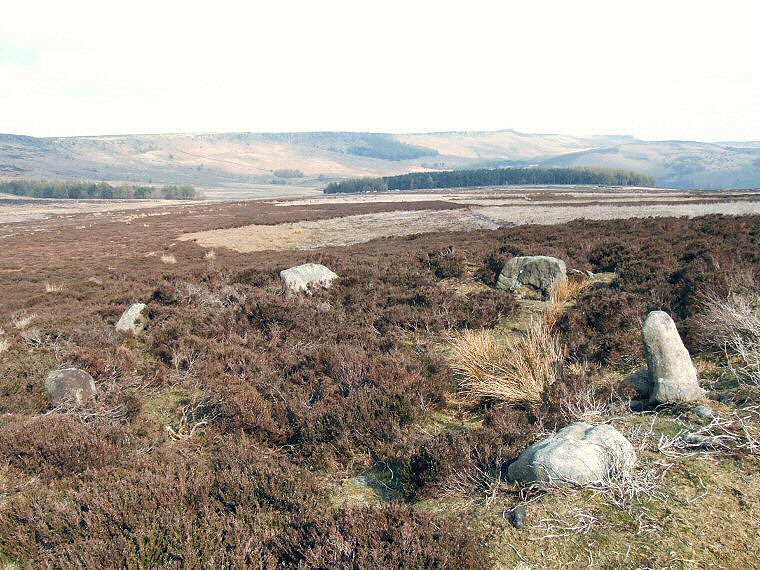 Looking east across this tiny circle towards Stanage Edge. April 2008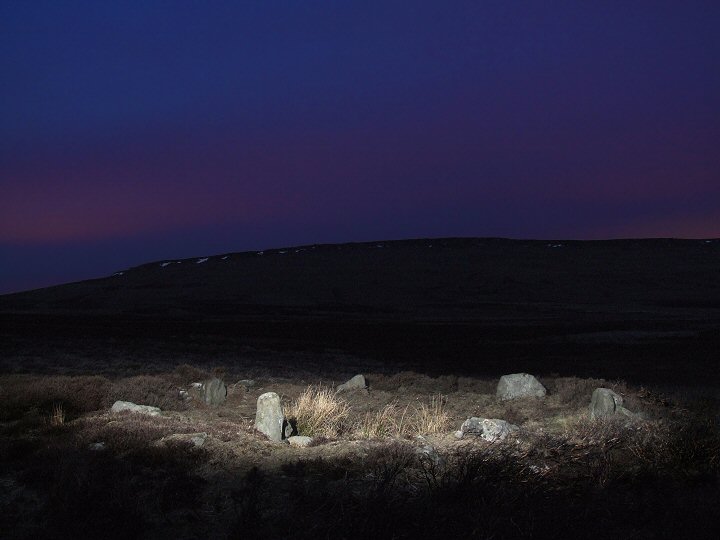 Night-time view across the circle. March 2009
Back to Map | Home | Full Glossary | Links | Email: chriscollyer@stone-circles.org.uk