Barbrook IV
Bronze Age Ring Cairn
North of Chatsworth, Derbyshire OS Map Ref SK28957563
OS Maps - Landranger 119 (Buxton & Matlock), Explorer OL24 (The Peak District - White Peak Area)
---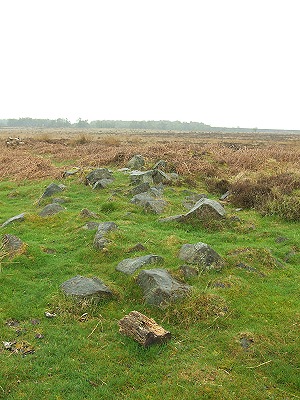 Part of the stone and earth bank of Barbrook IV looking southwest across Ramsley Moor towards Big Moor beyond the trees.
Although this site is known as Barbrook IV it stands apart from the other monuments of the group which are situated to the west on Big Moor on the other side of the A621 road, this
ring cairn
stands instead on Ramsley Moor just before the land begins to rise to the east below Hewetts Bank. It is not a particularly easy site to find as it raised only slightly above the ground and there are few distinguishing features on this part of the moor except perhaps the scrubby trees that stand immediately to the east. Add to this the fact that there are no tracks to the circle and that some parts of Ramsley Moor are badly waterlogged (and quite possibly dangerous) makes getting here an 'interesting' experience. When you do arrive however the layout of the ring cairn soon becomes obvious. It has an external diameter of between 22-24 metres with the low bank of stone and earth less than half a metre high extending up to 3.5 metres inwards towards a cleared platform interior with an entrance cut through towards the southwest. Although it stands some distance from the majority of the sites on Big Moor there are several smaller
cairns
close by and it would seem very probably that they all formed part of the larger complex of
Bronze Age
monuments which extends westwards to Curbar Edge.
Back to Map | Home | Full Glossary | Links | Email: chriscollyer@stone-circles.org.uk