Don't be fooled by the apparent earthen mound covering this monument - it is a turf covered concrete dome that was constructed after the site was excavated in 1953 although its original name still remains, 'Barclodiad y Gawres' means the 'Giantess's apronful'. The dome replaced what was presumably a cobble stone
cairn
that had been heavily robbed as an easy source of building material in the 18th century. It is what is inside however, that is of interest, unfortunately it is kept behind locked gates in perpetual semi darkness and unless you have access to the key* and a powerful torch the remains of this passage grave must be glimpsed through iron bars.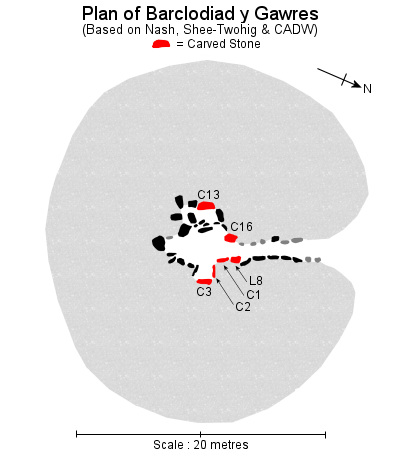 The grave itself consists of a northern 6 metre passage that leads to a central area with a terminal chamber and a pair of side chambers to the east and west. This type of
Neolithic
burial chamber
is related to some of those in Ireland and further links with that country are provided by the
carved stones
that make up the tomb - three of the stones in the passage and two in the chambers are decorated with spirals, chevrons and lozenges. In the plan left and photographs below the stone numbers are taken from Nash 2006. The passage grave of
Bryn Celli Ddu
11 miles away to the east has an example of a similar carved stone.
When Barclodiad y Gawres was excavated the cremated remains of two youths were found in the western chamber as well as animal bones and a hearth containing many reptile and small mammal bones as well as fish and shellfish remnants.
Update - A further decorated stone was discovered in the tomb in 2001 and is documented on the
Megalithics
website.
*Update 2009 - For many years it was possible to borrow a key to the inner chamber from the Wayside Store in Llanfaelog but due to vandalism this is no longer possible. Visitors should contact the store to arrange an appointment to be accompanied to the site by a member of staff who allow them access. This is restricted to Saturdays, Sundays and Bank Holiday Mondays between 12-4pm from the beginning of April to the end of October.