Beacon Hill
Bronze Age Round Barrow
Cleethorpes Cemetery, North East Lincolnshire OS Map Ref TA299081
OS Maps - Landranger 113 (Grimsby), Explorer 284 (Grimsby, Cleethorpes & Immingham)
---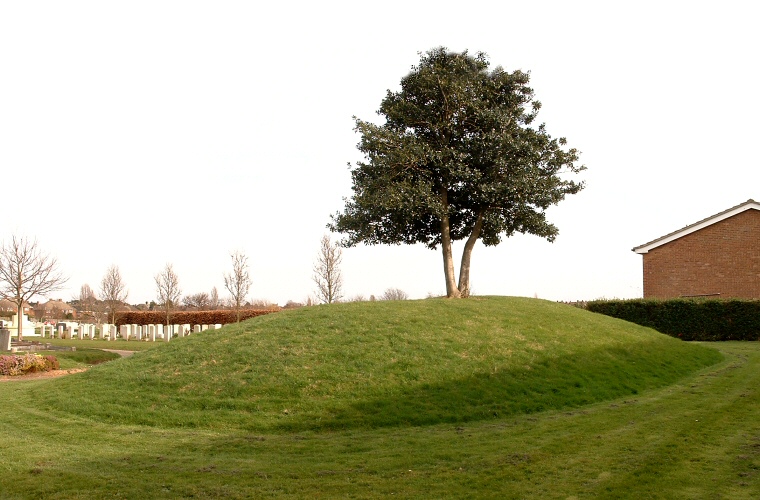 This is certainly an unusual location for a round barrow. Standing to the southwest of a cemetery in Cleethorpes and overlooked by small maisonettes with gravestones, wooden park benches and litter bins close by this is hardly the most picturesque setting for this earthen mound.

If we try to remove these modern intrusions from our mind though we are left with something of a mystery. What at first sight appears to be an over manicured Bronze Age barrow measuring 18 metres by 10 metres and just under 2 metres tall could turn out to be an older monument, or at least one built on an existing site that was in use during the proceeding Neolithic and that has continued to be used through to at least the Middle Ages.

Beacon Hill was partly excavated in the 1930's when Neolithic worked flints were discovered in the area around the barrow and it was noted that its dimensions at that time measured about 14 metres long, 7-8 metres wide and with a height of about 3 metres, its oval mound being aligned northwest to southeast. There is the possibility that the site started out as a long barrow although its size would make it the smallest in Lincolnshire by a long way, unless a substantial amount of earth has subsequently been removed. It is more probable the slightly raised northeast to southwest strip of land running from Cleethorpes towards Scartho (bounded in part by the modern A46 and A1098 roads) was valuable to the early inhabitants of the area and continued to be so during the Bronze Age when the mound probably dates from. The excavators certainly found remains from this period including a large plain urn which held not only cremated remains but also four smaller urns each containing the cremated remains of a child. These smaller urns were all decorated as was a further urn nearby which was also found to hold a child's cremated remains. The finds were all from well above the original ground surface and are hence thought to be secondary burials, the primary burial is presumably still undisturbed.

The barrow was also found to contain an Anglo Saxon bowl which probably accompanied a lost intrusive burial in the side of the mound. The mound was again reused during the Medieval period, this time as the site of a beacon which also gave its name to the site and it could be that the barrow's shape was changed from a circle to an oval at this time - although the reason why is not known.
Back to Map | Home | Full Glossary | Links | Email: chriscollyer@stone-circles.org.uk