Belas Knap
Neolithic Chambered Long Barrow
South of Winchcombe, Gloucestershire OS Map Ref SP02102542
OS Maps - Landranger 163 (Cheltenham & Cirencester), Explorer OL45 (The Cotswolds)
---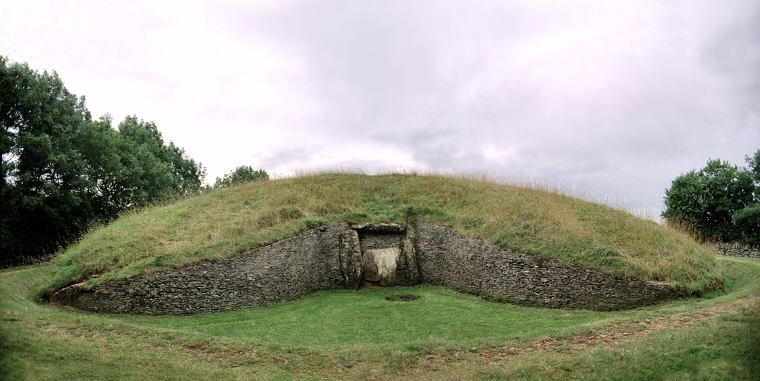 A superb and stunning example of a 'Cotswold-Severn' chambered long barrow, the partially restored Belas Knap is reached after a long 800 metre climb round the side of Humblebee woods from a small forest layby. This forest now blocks the view from the ridge of land where the barrow stands downhill towards the valley of Beesmoor Brook to the east, but this vista must have been an important consideration for the barrow builders. I stopped a local couple for directions and asked them if it was worth the climb to see the tomb. They replied it was all right if you enjoyed what they described as looking like 'a well kept hill' On reaching the barrow however, I was not disappointed - the truth is that Belas Knap is truly spectacular.

The first sight that greets the intrepid hiker is the great horned forecourt lined with drystone walling, the lower parts original, the upper parts restored, that centre around a huge false entrance comprising of a pair of uprights, a lintel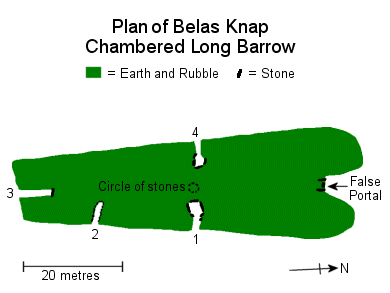 and blocking stone.

This barrow is somewhat unusual in being oriented north to south, the forecourt being to the north with the earthen and rubble mound rising to a height of 4 metres above it. This northern end measures about 26 metres wide and the barrow then tapers towards the south where it measures 17 metres in width and less than a metre in height. The whole of this trapezoid mound is around 70 metres in length.

The false entrance does not contain any chambers, these are situated around the sides of the barrow and to the rear. Consisting of upright slabs of stone and drystone walling there is a single chamber to the west and two along the eastern side with a long cist or small chamber at the southern end. These would all originally have had either limestone slab or corbelled roofs and been covered with earth, but since excavations in 1863-1865 by L. Winterbotham and W. Lawrence and again in 1928-1930 by Sir James Berry and W. J. Hemp and the subsequent heavy restoration in 1930-1931 overseen by Dr Ralegh Radford, these chambers have been left open.

Within the chambers were found the remains of nearly forty bodies - twelve inhumations in chamber 1, four in chamber 2, one in chamber 3 and fourteen in chamber 4 (plus a further six or seven bodies that were recovered in the late 19th century) as well as a flint saw, hammer stones, sickle blades and part of a boar's tusk pendant. Just behind the false entrance which may originally have been constructed as a portal tomb, five children's bodies and a man's skull were found amongst the rubble infill as well as a circle of stones in the centre of the monument that could have formed an original round barrow or grave with the long barrow being later built over this already sacred site.

The site dates from the Neolithic but the name 'Belas Knap' itself is medieval, meaning Beacon Mound.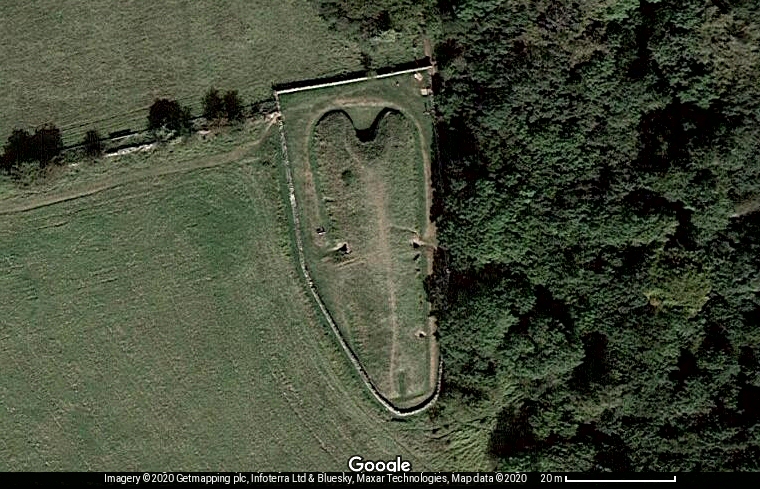 Satellite image of Belas Knap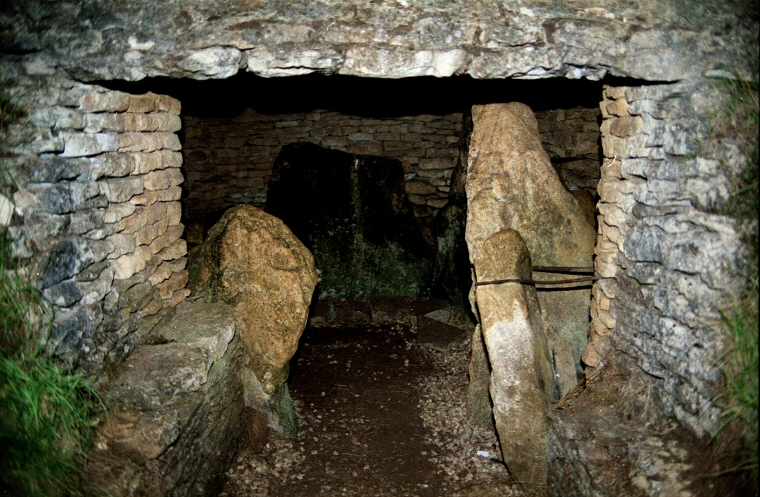 View inside eastern chamber 1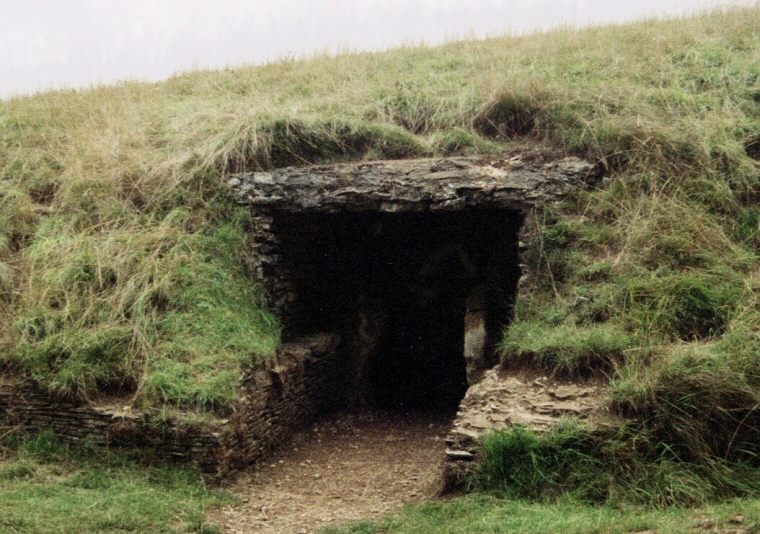 Eastern chamber 1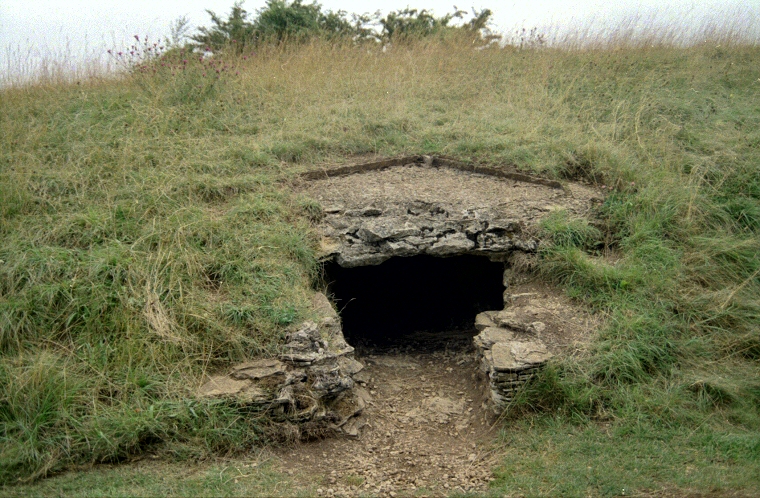 Eastern chamber 2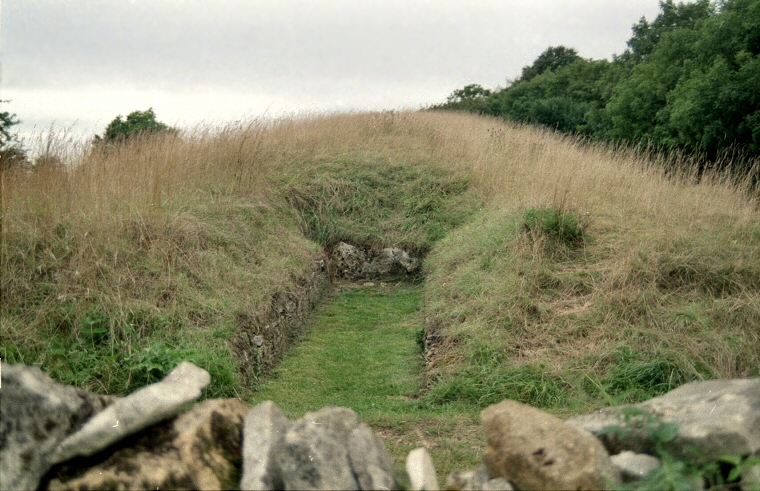 Southern chamber or cist 3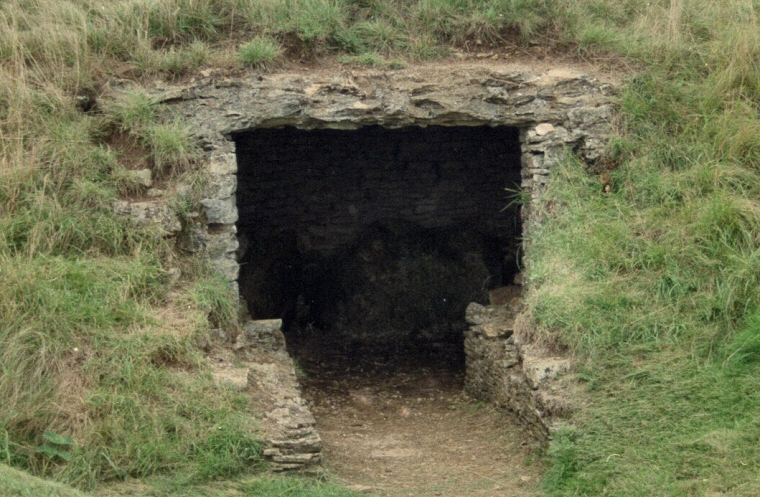 Western chamber 4
Back to Map | Home | Full Glossary | Links | Email: chriscollyer@stone-circles.org.uk