The Blind Fiddler
Bronze Age Standing Stone
St. Buryan, Cornwall OS Map Ref SW42532818
OS Maps - Landranger 203 (Land's End & Isles of Scilly), Explorer 102 (Land's End)
---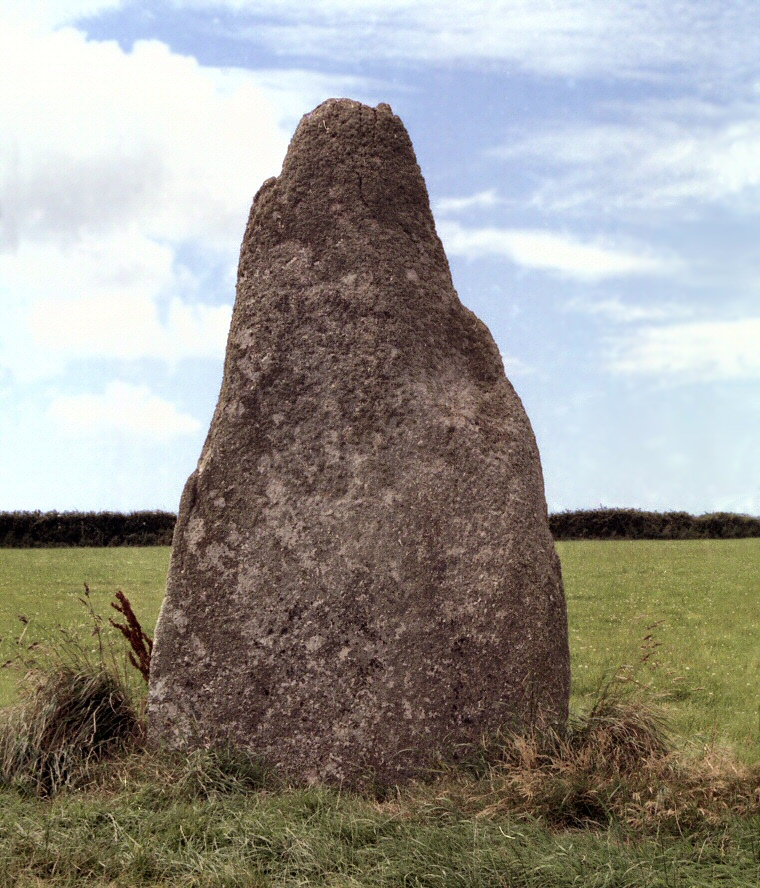 The Blind Fiddler stands just to the north of the A30 road and on the north-eastern slope of a narrow ridge of land that is bounded on either side by a pair of valleys and streams close to Trenuggo Farm. A public footpath that leads southeast from at least Sancreed, through the village of Kerris and on to the coast near Mousehole passes along this ridge close to the stone and it is tempting to speculate that it follows the routes of an ancient trackway which may give us a clue as to why the stone was erected here - as a route marker.
One of many standing stones on the western tip of Cornwall, this substantial slab of quartz rich granite stands about 3.3 metres tall and is nearly 2 metres wide at its base yet is only half a metre thick, a labourer digging for treasure at the base of the stone sometime in the 19th century claimed the stone was sunk 4 feet (1.2 metres) into the ground. The labourer didn't find the treasure he hoped for, instead he found archaeological 'treasure' - cremated bones and ashes and it is probable that the stone was already here before these deposits were placed at its base rather than the other way round.
The stone gets its name from the legend that it was a fiddler turned to stone for playing on the Sabbath, a common story that applies to several other sites where either musicians or dancers meet the same fate for similar acts of frivolity on a Sunday, however I'm not sure why this particular musician is regarded as being 'blind'.
Probable Date:
Bronze Age


Site Visits / Photographs:
August 1999.
References:
Borlase, W. C. 1872.
Naenia Cornubiae - A Descriptive Essay
. London: Longmans, Green, Reader and Dyer.
Weatherhill, C. 1981.
Belerion. Ancient Sites of Land's End
. Penzance: Alison Hodge.
Weatherhill, C. 1985.
Cornovia. Ancient Sites of Cornwall & Scilly
. Penzance: Alison Hodge.
Historic England Research Record Hob Uid: 422516. PastScape Monument No: 422516.


Back to Map | Home | Full Glossary | Links | Email: chriscollyer@stone-circles.org.uk