Broomridge
Bronze Age Carved Rocks / Rock Art
Southwest of Lowick, Northumberland OS Map Ref NT97303711
OS Maps - Landranger 75 (Berwick-upon-Tweed), Explorer 339 (Kelso, Coldstream & Lower Tweed Valley)

---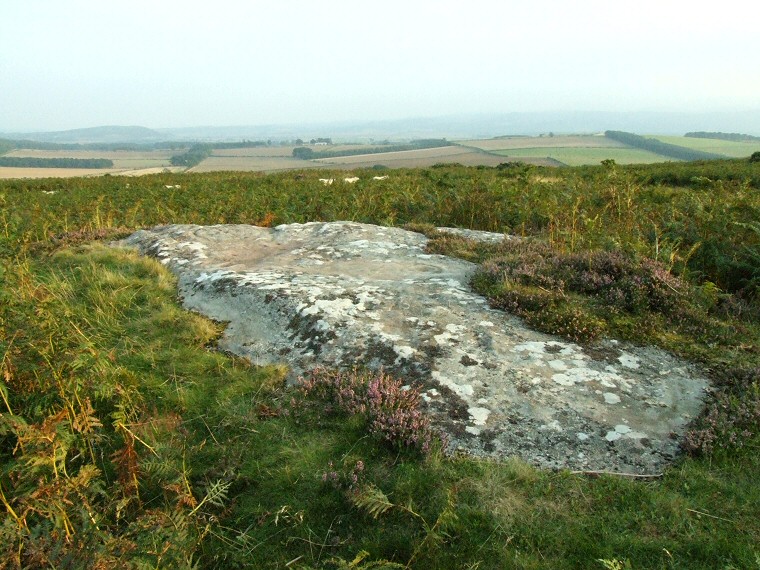 Broomridge 1 (ERA-5) at NT97303711. Overview of the carved rock looking south towards the valley of the River Till with Doddington Moor on the horizon towards the left. The rock is very exposed near the edge of the ridge and as a consequence the carvings are quite worn and difficult to make out.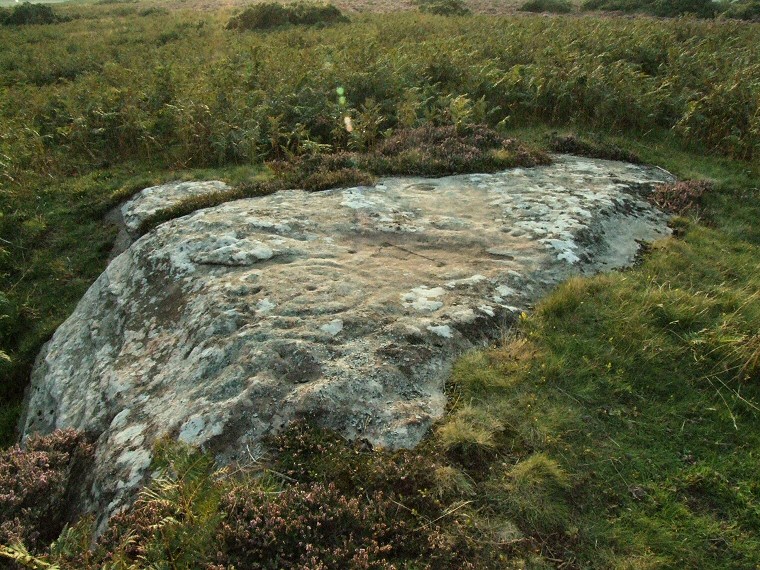 Broomridge 1. View of the carvings on the top surface of the outcrop.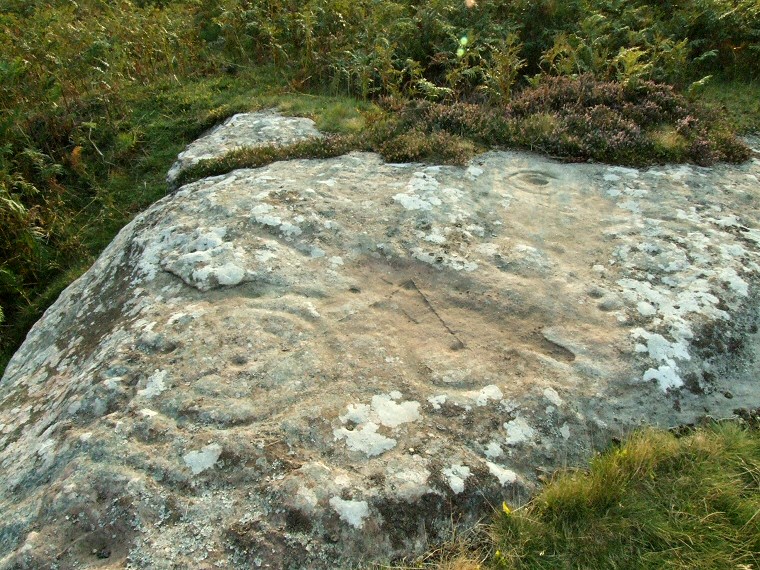 Broomridge 1. Detail of the carvings on the southern end of the rock. The largest carving to the left has a central cup with a pair of widely spaced rings and a groove running through it while two other cups also have double rings. Three cups sit at the centre of wide single rings, one with a long groove that runs across the bottom of the picture while another ring encloses a pair of cups. Towards the top of the rock is a cup with possibly four worn full or partial rings with the separate triangular section at the top of the picture also having a pair of worn rings.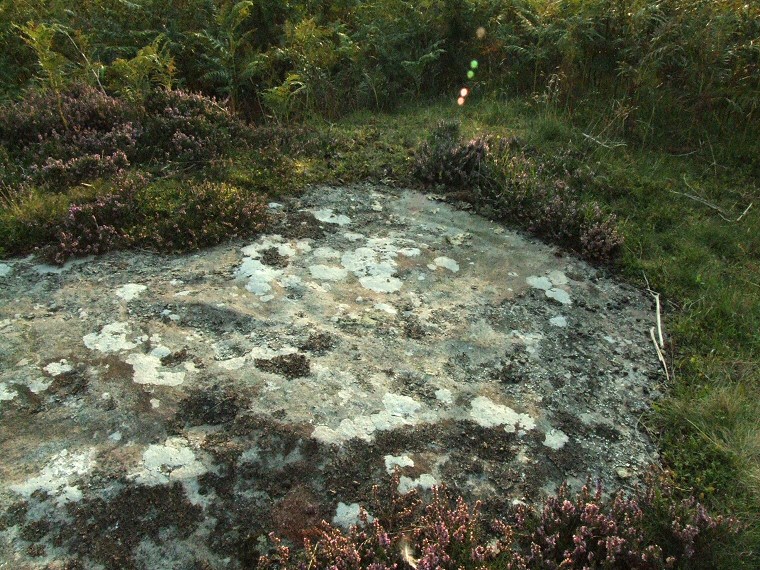 Broomridge 1, northern end of the rock. The carvings here are very worn and partly overgrown with heather and lichens but the upper centre area of the photograph has three concentric rings with the traces of part of a fourth ring (see inset diagram).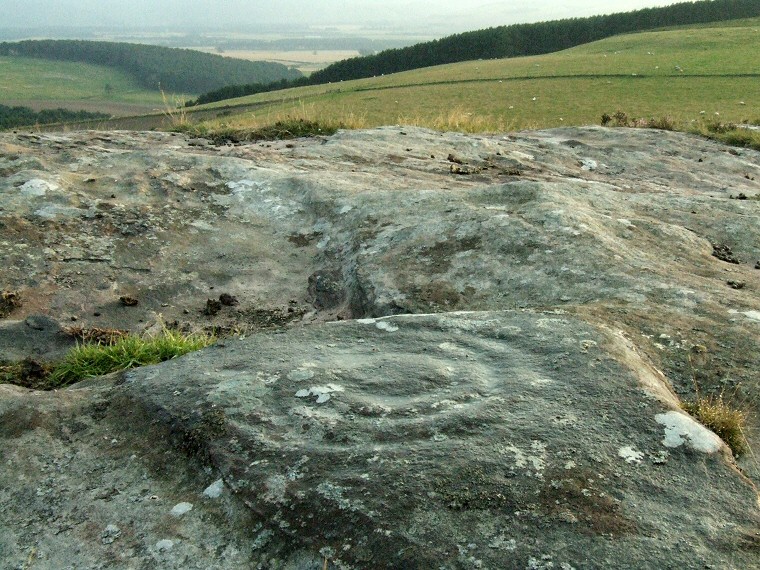 Broomridge 2 (ERA 7) at NT97043705. Although this large sheet of outcropping rock near the edge of Broomridge has several cup and ring carvings including one with 6 or possibly 7 rings when I visited the rock it was getting late in the evening and I only managed to find a worn 3 ring motif without a central cup shown above and the cups in the picture below.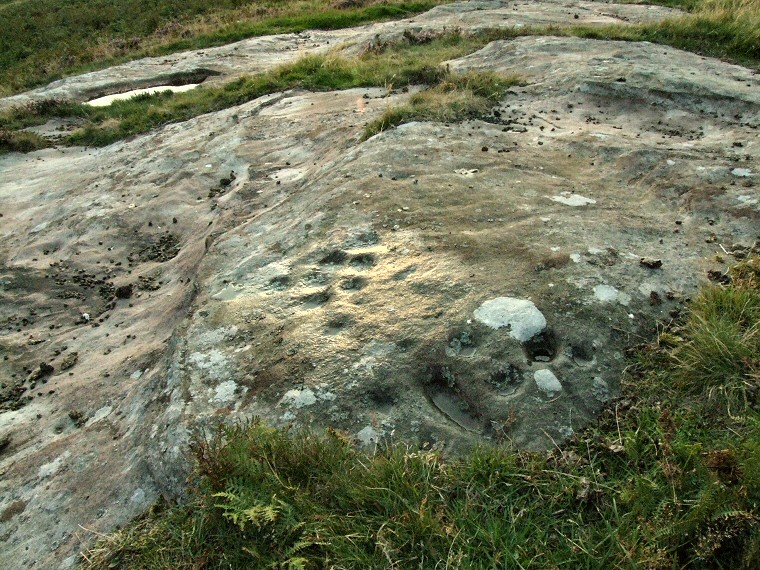 Broomridge 2. Two clusters of cups near the edge of the rock, the upper one has 7 cups forming a rough triangle while the lower group just above the grass has 8 or 9 cups and a pair of short grooves.
Back to Map
|
Home
|
Full Glossary
|
Links
|
Email: chriscollyer@stone-circles.org.uk