Bully Hill
Bronze Age Round Barrow
Northeast of Tealby, Lincolnshire OS Map Ref TF17279227
OS Maps - Landranger 113 (Grimsby), Explorer 282 (Lincolnshire Wolds North)
---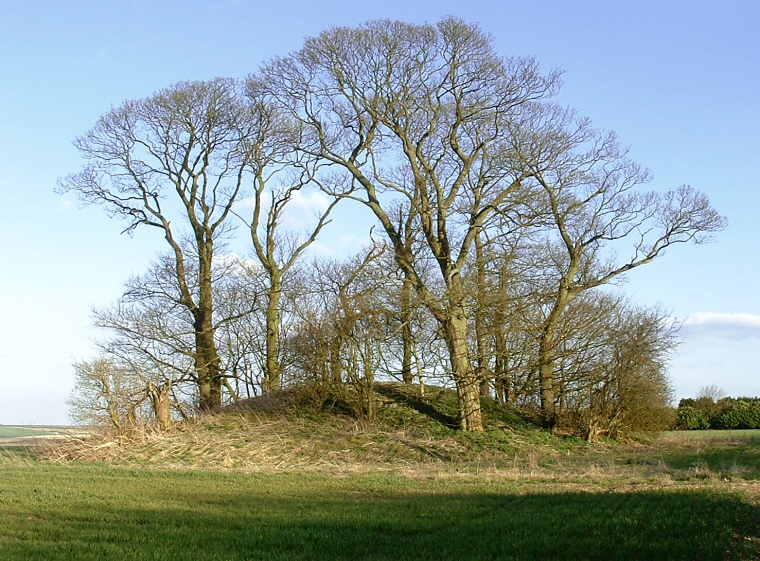 This is a well preserved
round barrow
at the edge of a farmers field that still stands to a height of around 3 metres and a diameter of 25 metres.
The site's elevation of 146 metres above sea-level makes it one of the highest points in the immediate area with fine views across the valley of Kirmond-le-Mire to the east. The barrow stands right next to the B1225 road which is now recognized as an ancient trackway. Now also known as 'High Street' this road runs along the eastern side of the the Lincolnshire Wolds and has many round and
long barrows
associated with it, indeed the cropmark remains of a
Neolithic
long barrow were discovered just 300 metres to the northwest.
Just a little further west of Bully Hill is a valley that contains the fledgling River Rase and this association with water may have been an important consideration to the builders as well as the site's close proximity to 'High Street'.
Date:
Bronze Age
Back to Map | Home | Full Glossary | Links | Email: chriscollyer@stone-circles.org.uk