Carn Llechart
Stone Circle / Ring Cairn and Cairn
West of Pontardawe, West Glamorgan OS Map Ref SN69730627
OS Maps - Landranger 159 (Swansea & Gower), Explorer 165 (Swansea)
---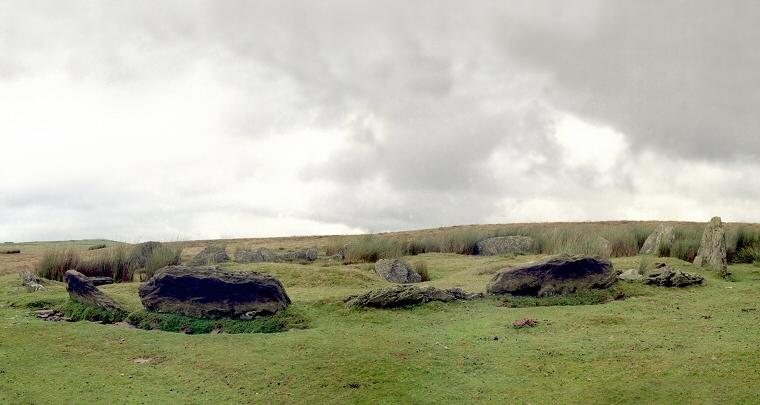 Carn Llechart is a difficult place to find even with Ordnance Survey maps and a compass. I spent a large part of a drizzly afternoon driving backwards and forwards and then wandering across a bleak hillside and moor before locating this strange monument, only to find it was less than 50 yards from a footpath, yet still in the middle of nowhere.

It is a strange place indeed, a late Neolithic or early Bronze Age circle of some twenty-two to twenty-five low stones that reminds me of those in Derbyshire but set close together forming an almost complete kerb in some places with a shattered stone lined cist towards the centre (image below). What is unusual is that the circle stones are titled slightly outwards.

It has been suggested that the circle was indeed a kerb to a covering earthen mound but what seems more likely is that this monument represents a mixture of ceremonial purposes at a time of change. The builders could have seen early stone circles, perhaps elsewhere in Wales or further up the coast in Cumbria and decided to incorporate the idea into their own structures producing a hybrid circle or ring cairn. A similar arrangement exists at the site of Bryn Cader Faner in Gwynedd.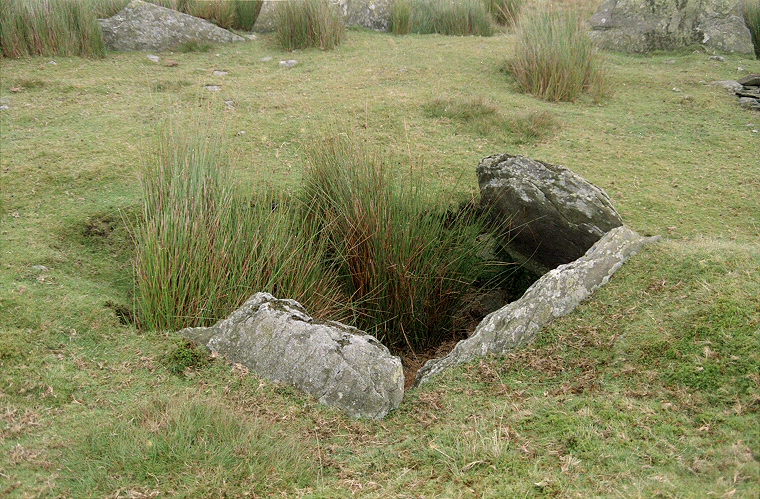 The remains of the stone-lined cist near the centre of the ring.
Back to Map | Home | Full Glossary | Links | Email: chriscollyer@stone-circles.org.uk