Chatton (Panel 1a)
Bronze Age Carved Rock / Rock Art
Chatton, Northumberland OS Map Ref NU07572906
OS Maps - Landranger 75 (Berwick-upon-Tweed), Explorer 340 (Holy Island & Bamburgh)

---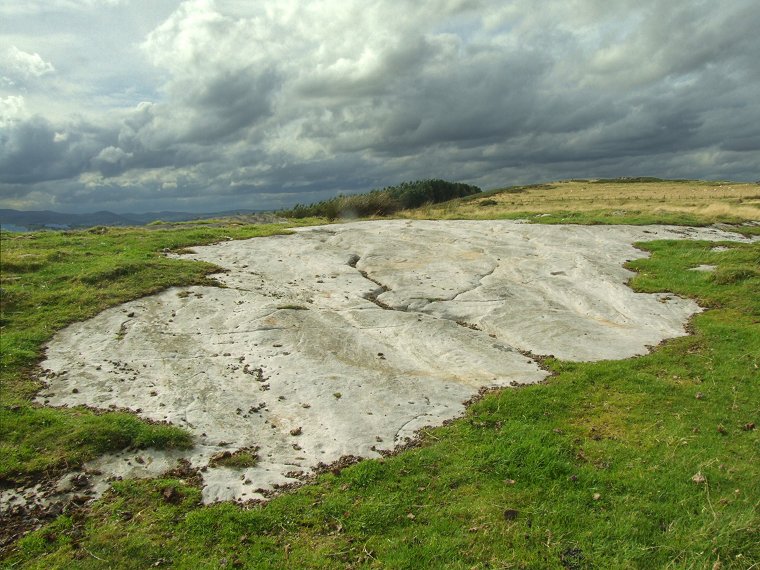 View of the rock outcrop looking northwest. From this distance the carvings are almost invisible.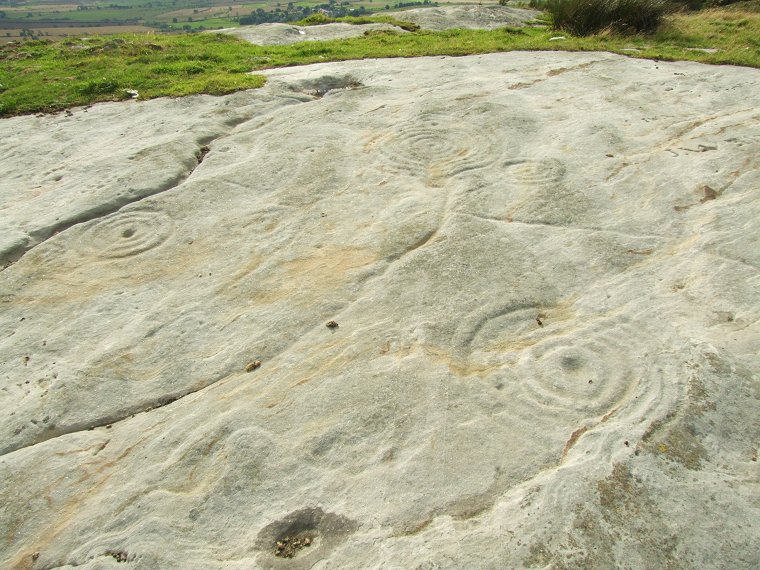 Close up of the main carvings on the rock. To the upper left are a couple of 'domino' cup motifs and a cup with three rings just to the right of a deep groove. The largest design occurs to the upper centre with a cup surrounded by seven rings and a gutter than emerges from the bottom and joins with an artificially enhanced channel running down the face of the rock. What is interesting is that there is an additional cup that occurs above the fourth ring and the three outer rings curve gracefully around this second cup (see bottom photo for more detail). Does this suggest that the cup was already there when the rings were carved or was the whole design intentional? Just to the right is smaller three ring and gutter motif while to the lower right of the photo a cup is surrounded by five rings. This design stands in isolation with no physical connection to the groove that runs close by to the left. There are also several fainter carvings that are more difficult to pick out in the photo including further rings and a diamond or lozenge motif.
Compare these delicate carvings with the bolder designs at Ketley Crag, 750 metres to the north.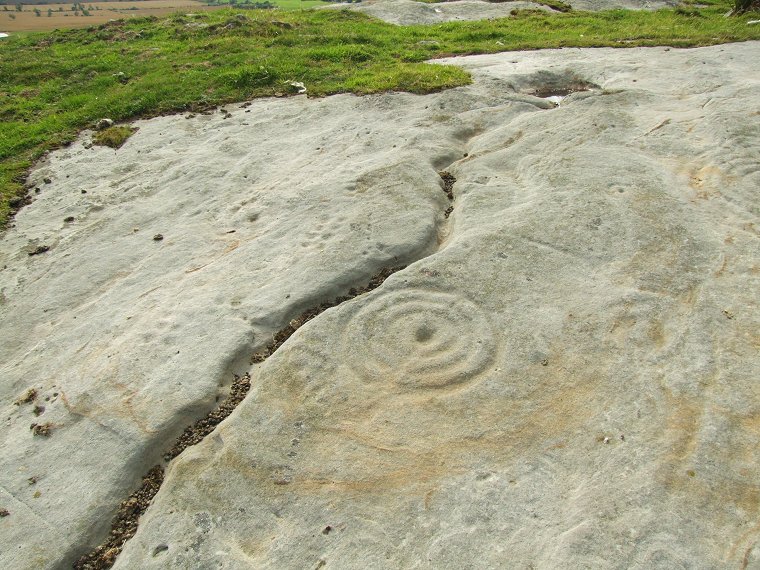 Carvings on the left hand side of the outcrop. This is dominated by an enhanced natural groove that runs down the face of the rock from a large bowl, here partly filled with water. To the immediate left are four sets of 'domino' carvings, a faint group of four, a group of eight to the upper left of the cup and ring and a group of four and six to the left of the rings. Also on the surface are a further pair of faint cup and ring motifs.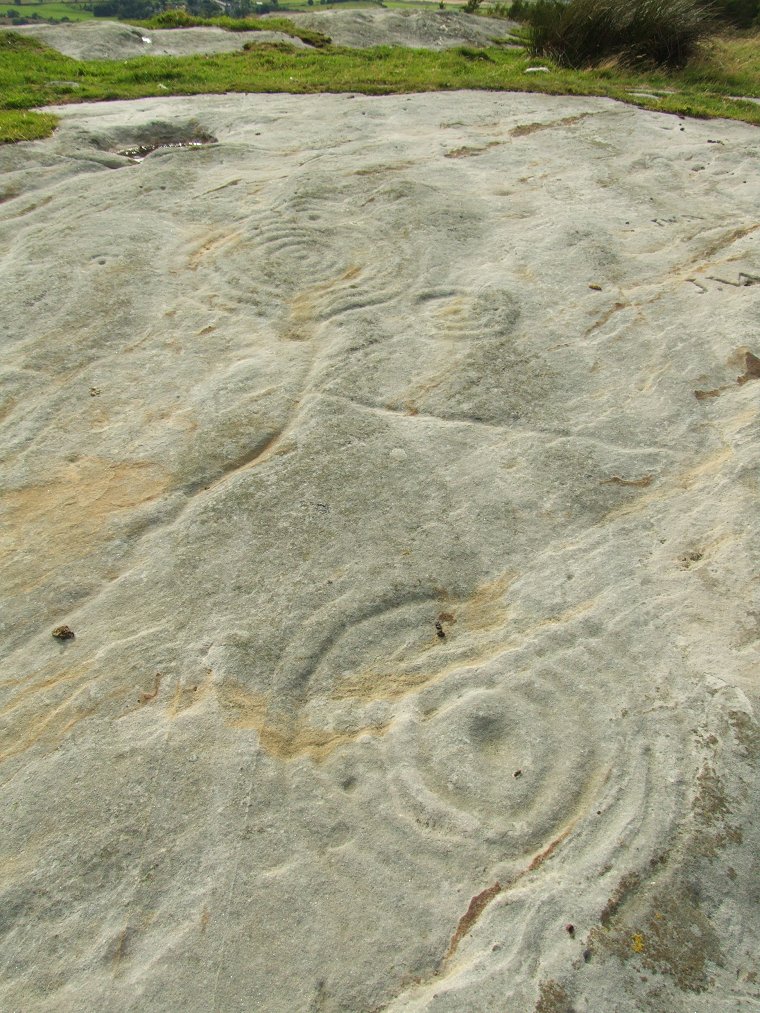 Detail of the main carvings.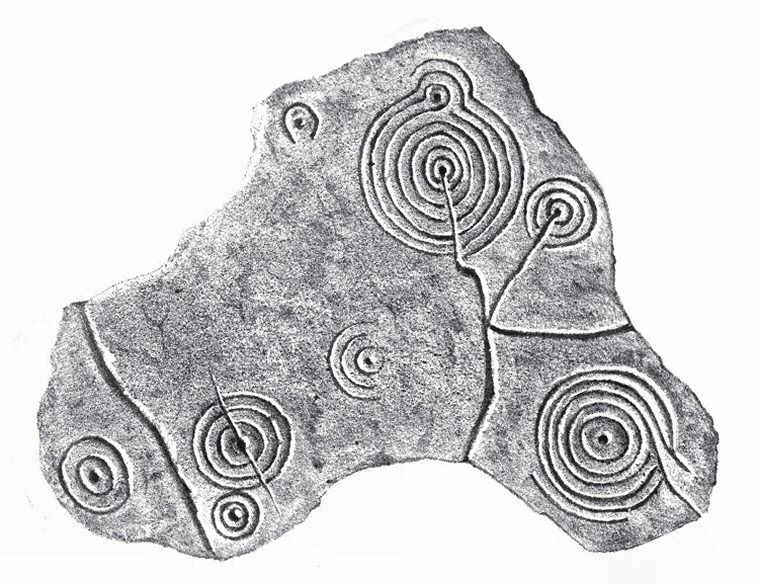 Illustration of the panel at Chatton from 'The Ancient Sculptured Rocks of Northumberland and the Eastern Borders' by George Tate 1865.
Back to Map
|
Home
|
Full Glossary
|
Links
|
Email: chriscollyer@stone-circles.org.uk