This is a group of eight, possibly nine
round barrows
on a plateau of land just to the north of Cobdale Cottage towards the western edge of the Yorkshire Wolds. Many have been badly damaged due to being under cultivation for a long period but at least one is clearly visible to the east of Cobdale Lane and is shown in the picture above.
Eight of the barrows were excavated by JR Mortimer in 1882 (numbered 244, 246, 247, 248, 249, 250, 251, 264 in Mortimer 1905) however he noted that several of them had already been dug into by a Mr. J. Silburn in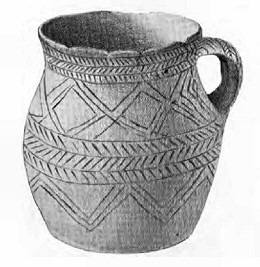 the middle of the 18th century as well as various tenants who had farmed the land. Despite this Mortimer was able to recover and document many finds from the barrows which contained a mixture of
inhumations
and cremations, one burial was apparently in a wickerwork coffin covered over by a wooden roof, another burial was also beneath a wooden roofed structure while two other burials seem to have been in graves lined with wooden panels. One set of cremation remains was found within an inverted collared
urn
with another urn filled with burnt bone noted as having been recovered the previous year but the rest of the cremations appear not to have been placed in containers although bone and
bronze
pins found within the barrows could have been used used to tie hide bags containing cremation remains. As well as urns Mortimer also recorded several
food vessels
and small
incense or 'accessory' cups
as well as an unusual handled
beaker
(see inset image) that accompanied the burial of a child plus
sherds
from several other pottery vessels.
Flint
fragments, a flint knife, a barbed and tanged arrowhead and the broken end of a stone axe were also found during the excavations.
Sadly little remains to be seen at the site today with most of the barrows badly damaged by ploughing, English Heritage record them as having been between 20-35 metres in diameter, the image above is probably barrow number No 21110 at SE85885392 which measures about a metre and a half high, the rest of what remains all being under a metre in height.
Date:
Bronze Age