Devil's Quoit
Neolithic Chambered Tomb
West of Pembroke, Dyfed OS Map Ref: SM88650084
OS Maps - Landranger 157 (St David's & Haverfordwest), Explorer OL36 (South Pembrokeshire)
---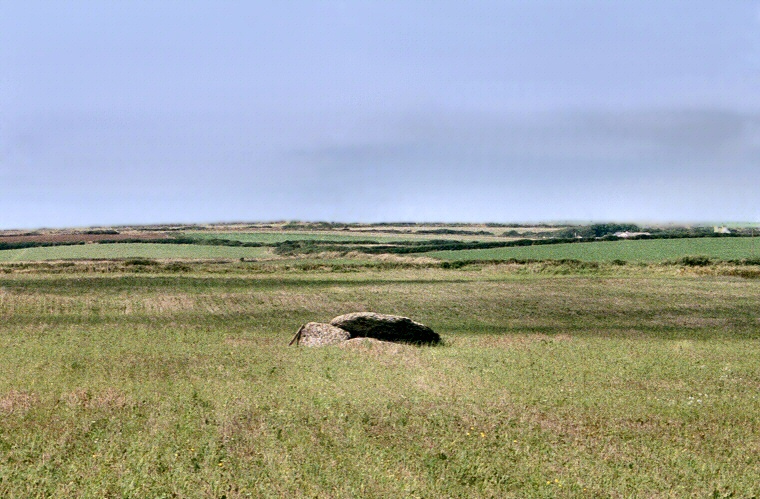 The badly damaged remains of this Neolithic burial chamber can be found in the middle of a farmers field about 500 metres from the sand dunes of Broomhill Burrows in this very quiet and beautiful corner of Pembrokeshire. Unfortunately the field was surrounded by a barbed wire and an electric fence so I was unable to get right up to the tomb to examine the stones and the photograph above had to be taken from a distance.

I can find very little information about this monument but it can only ever have been a small structure and it now consists of a thin fallen capstone that is supported at one side by two small uprights with no immediate evidence of a covering of stones or earth - if indeed one ever existed. However, it is still worth investigating the area as the countryside is particularly attractive, the barrow's position being on a narrow low ridge of land that projects eastwards into Milford Haven with the Pembrokeshire Coast Path following the line of the peninsula.

Update: According to the Royal Commission on the Ancient and Historical Monuments of Wales the capstone measures 3.7 metres by 2.4 metres and is about half a metre thick with the supporting uprights to the east of the structure being about 1.3 metres in height.
Back to Map | Home | Full Glossary | Links | Email: chriscollyer@stone-circles.org.uk