Doddington Moor Circle
Bronze Age Stone Circle
Southeast of Doddington Moor, Northumberland OS Map Ref NU01323171
OS Maps - Landranger 75 (Berwick-upon-Tweed), Explorer 340 (Holy Island & Bamburgh)

---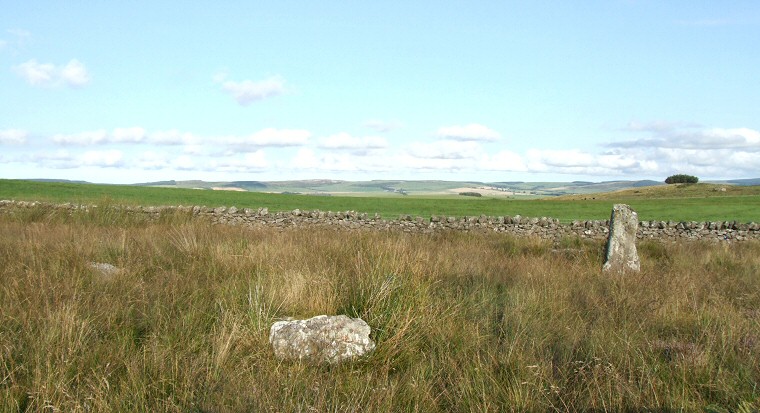 View east over three of the stones of the circle (one is partly covered with grass to the left of the picture).
This site is the remains of a small
stone circle
located next to the footpath that runs north-south across Doddington Moor as it passes due east of the hill of Dod Law.
There are five stones here but it is probable that only three formed part of the circle, these three can be seen in the picture above with a pair of other stones hidden in the long grass. The only remaining upright stands about 1.7 metres in height while the stone shown in the middle above leaning towards the camera would be about 1.4 metres tall if it wasn't nearly prostrate. The fallen stone to the left above would have been a similar height when standing and the circle would have had a diameter of no more than about 15 metres.
The two other stones are thought to be more recent as it has been pointed out that they are of a narrower rectangular section with evidence of having been shaped with metal tools as well as showing little sign of weathering when compared to the three certain stones of the circle (see weathered grooves on the top of the stone below). It has been suggested therefore that the two newer stones could have formerly been gateposts.
Suggested Date:
Bronze Age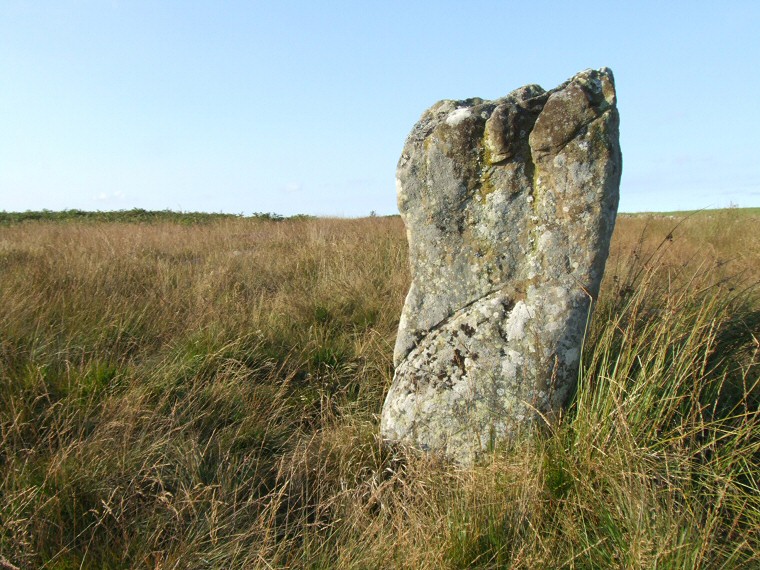 The only remaining upright of the circle.
Back to Map
|
Home
|
Full Glossary
|
Links
|
Email: chriscollyer@stone-circles.org.uk