Dorset Cursus
Neolithic Cursus
East of Sixpenny Handley, Dorset. OS Map ST96961243 (SW) SU01841601 (Centre) SU04021921 (NE)
OS Maps - Landranger 184 (Salisbury & The Plain), Explorer 118 (Shaftesbury & Cranborne Chase)
---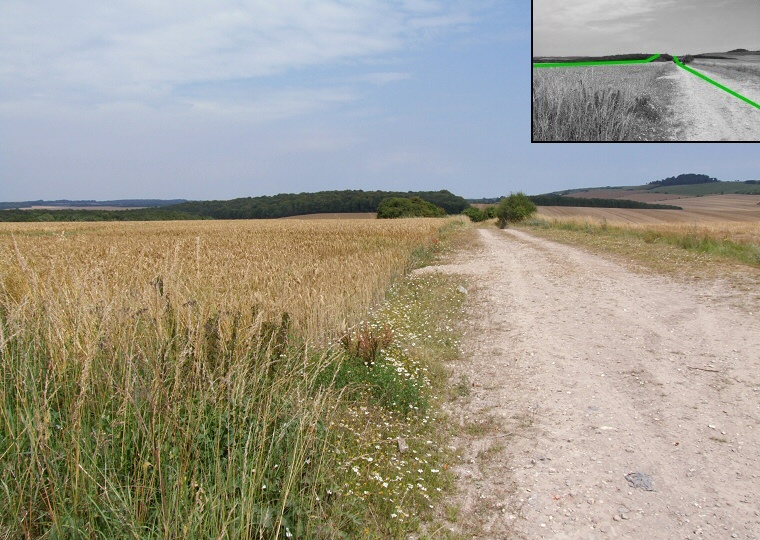 The Pentridge cursus, part of the larger Dorset Cursus, looking northeast from Bottlebrush Down. The eastern bank of the cursus follows the line of this minor track towards the trees of Salisbury Plantation at the top of the image (see inset interpretation) then continues along the edge of the wood passing the village of Pentridge before terminating on Martin Down 4km (2.5 miles) away to the northeast.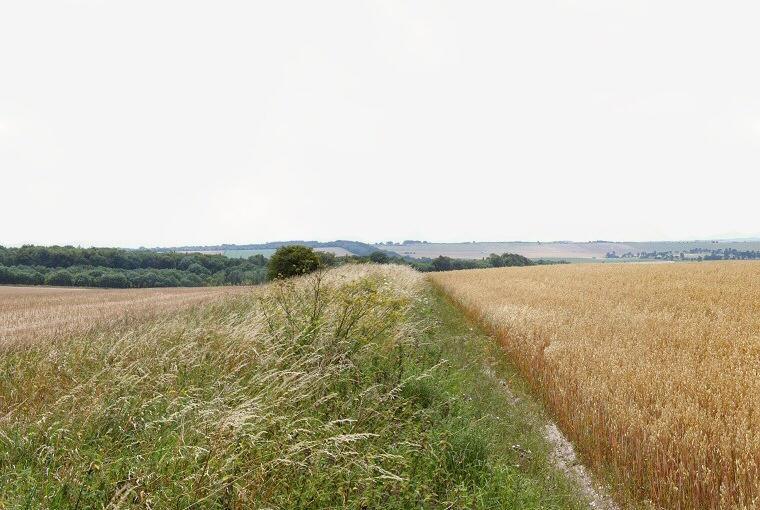 Looking southwest along the Pentridge Cursus from Bottlebrush Down. This image was taken from the opposite side of the road from the image at the top of the page and shows the eastern bank of the cursus surviving as a raised field boundary. From here it runs downhill for about 400 metres before terminating at the junction with the Gussage Cursus which continues southwestwards rising over the crest of Gussage Hill on the horizon to the right of centre.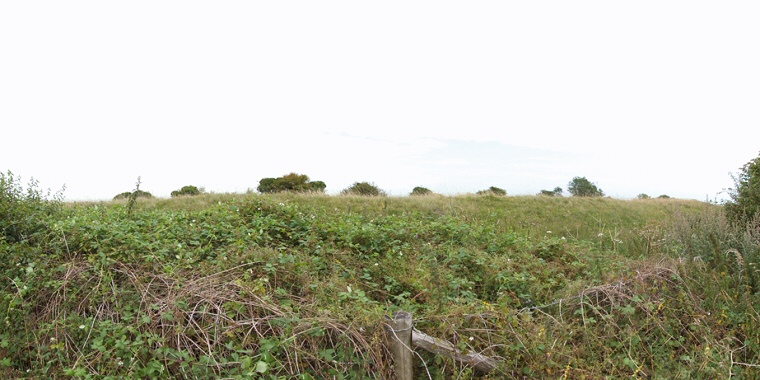 The southwestern terminal of the Gussage Cursus on Thickthorn Down. This image was taken from beside the road as barbed wire and undergrowth (and a twisted knee) prevented closer inspection. The bank appears higher than it actually is and stands about a metre above ground level.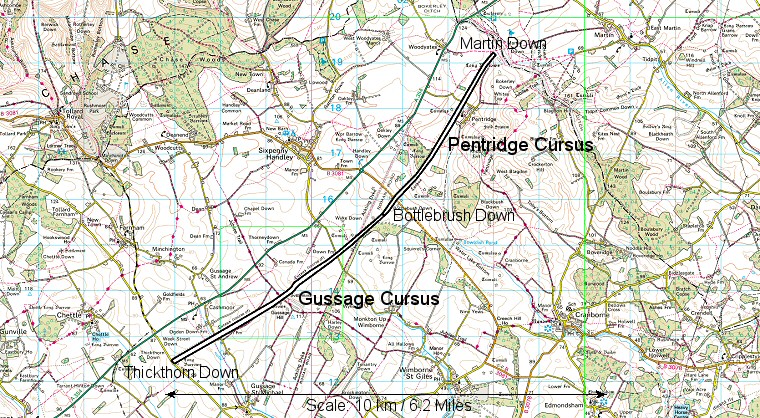 Plan of the Dorset Cursus which is formed from two smaller cursuses that meet on Bottlebrush Down, the junction can be seen just to the left of the letter 'B' in Bottlebrush. The entire cursus follows a 10km (6.2 miles) course across Cranborne Chase with the Gussage Cursus measuring 5.6km (3.5 miles) and the Pentridge Cursus being somewhat shorter at 4.3km (2.7 miles)

Elevation profile of the Dorset Cursus (data from Memory Map software), the Gussage Cursus is to the left and Pentridge Cursus to the right. It will be noted that the Gussage Cursus starts on high ground on Thickthorn Down before dipping down into a valley that holds a tributary of the River Allen before rising up onto Gussage Down then falling again into a dry valley at the head of the Allen itself, finally rising up onto Bottlebrush Down. The Pentridge Cursus on the other hand initially rises over Bottlebrush Down, dips into a dry valley that leads towards the River Crane but then continues along a fairly level gradient from Salisbury Plantation to its terminal on Martin Down.
Back to Map | Home | Full Glossary | Links | Email: chriscollyer@stone-circles.org.uk