Folk Moot & Butt Mound
Bronze Age Round Barrows
Silk Willoughby, Lincolnshire OS Map Ref TF054430
OS Maps - Landranger 130 (Grantham), Explorer 248 (Bourne & Heckington)
---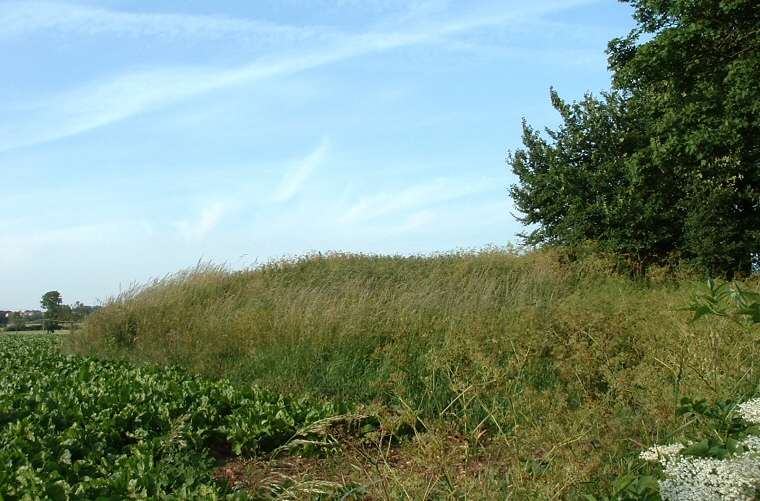 Folk Moot at TF054430, looking east
This site consists of a pair of bowl barrows that stand at the edge of a farmers field on the other side of the road from a row of houses in the tiny Lincolnshire village of Silk Willoughby.

At the beginning of the 20th century they were recorded as part of a small four barrow cemetery which was later partially excavated in the 1930's when a small amount of Middle Bronze Age pottery fragments were found, since then the other two barrows have been lost either to the plough or the modern houses. Further finds suggest that the mounds were reused from the medieval period onwards as archery butts, beacon fires or village meeting places and their continued use is reflected in the barrows names – the west barrow is known as Folk Moot, the eastern as Butt Mound.

Folk Moot is the larger of the two, and stands around 2 metres tall and nearly 20 metres across at it's widest point (the northern side has been ploughed away) while Butt Mound is about a metre high and 10-12 metres wide – it too has been plough damaged on the northern side.

Butt Mound at TF055430, looking west
Back to Map | Home | Full Glossary | Links | Email: chriscollyer@stone-circles.org.uk