Folkton Barrow
Bronze Age Round Barrow
South of Folkton, North Yorkshire OS Map Ref TA05917775 Elevation: 141M OSD
OS Maps - Landranger 101 (Scarborough), Explorer 301 (Scarborough, Bridlington & Flamborough Head)
---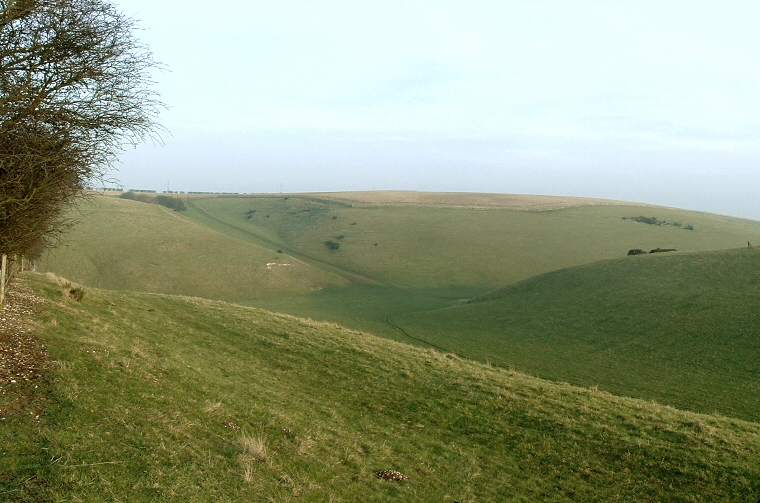 There is nothing left to be seen of the Folkton barrow today, indeed it was less than a metre high when the antiquarian Canon Greenwell excavated it in the 1880's but the site is worth a visit for two reasons.

First is for the position of the barrow, as you follow the public right of way from the roadside eastwards, the landscape opens out in front of you as a huge natural crossroads between the hills (photograph above looking east, the barrow was on the slopes of the hill on the upper left). The barrow would have overlooked what could have been an important junction of two trading routes and I would speculate that there could have been some kind of stone or timber marker at the bottom of the valley, although there is no record of one ever standing here.

The second reason are the finds from the barrow itself. Buried with the body of a child these consisted of three small carved chalk cylinders or 'drums' measuring 11.8cm, 10.5cm and 8.6cm tall with diameters of 14.6cm, 12.7cm and 10.2cm respectively. They are decorated with incised lines and chevrons as well as shapes that could be interpreted as human faces. These apparent markings of eyes, eyebrows and noses have lead some to think that they may be idol figures of some kind, others believe they could be copies of incense cups. Although the tops of the drums appear to form lids, they are in fact solid.

The Folkton Drums are now housed in the British Museum in London although replicas can be seen in Hull Museum.

Date: Bronze Age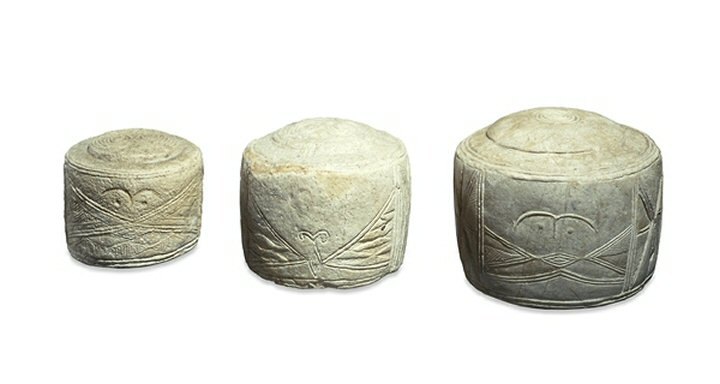 The Folkton Drums - Image from the British Museum.

The Folkton Drums, image above and below taken from 'Recent researches in barrows in Yorkshire, Wiltshire, Berkshire etc' by Rev. William Greenwell 1890.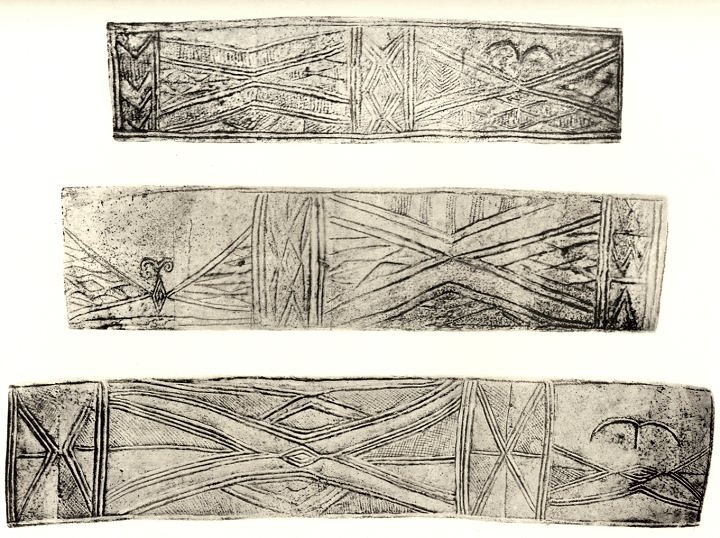 Expanded view of the drums. Note the apparent human faces on the right hand side of the top and bottom drum.
Back to Map | Home | Full Glossary | Links | Email: chriscollyer@stone-circles.org.uk