Garrowby Wold
Bronze Age Barrow Cemetery
North of Pocklington, East Riding of Yorkshire General OS Map Ref SE81375678
OS Maps - Landranger 106 (Market Weighton), Explorer 294 (Market Weighton & Yorkshire Wolds Central)
---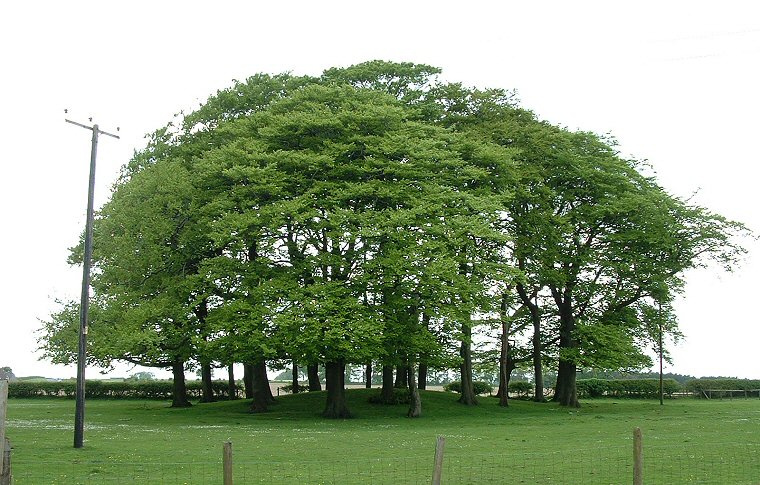 Garrowby Wold barrow group - barrow at SE820570
A study of the map of the Garrowby Wold area reveals what appears to be a linear cemetery of about half a dozen
round barrows
arranged either side of the main A166 road particularly in a mile long section between Garrowby Hill Top in the west and the radio mast to the east of Cot Nab.
In fact there were once many more barrows here and the 19th century antiquarian J.R. Mortimer recorded eighteen in all mainly clustered around Garrowby Wold but also extending southwards along Bishop Wilton Wold. The modern road that runs west to east over Garrowby was formally a Roman road which in turn probably followed the course of an ancient trackway linking the Derwent Valley with the central Yorkshire Wolds area. At Garrowby the landscape narrows dramatically with the steep valleys of Hundle Dale and South Wold Dale to the north and Deep Dale to the south and anybody passing through this part of the country would therefore be naturally funneled through this narrow saddle of high ground and would have had to pass through the once imposing mounds of this barrow group.
The three round barrows shown on this page are all located just to the north of the road, the barrow above stands in the grounds of South Wold Farm and measures nearly 2 metres high and about 35 metres in diameter - it was listed by Mortimer but unusually he did not undertake any excavation of the mound. A short distance away to the east the barrow below was also left untouched by Mortimer, it is slightly higher at about 2.5 metres tall but has a similar 35 metre diameter. The image at the bottom of the page shows a slightly smaller barrow standing about 2 metres high and a little over 20 metres in diameter. This barrow stands towards the western end of the group and yet again was left unexcavated although the English Heritage schedule for this site records this as having being opened by Mortimer. It would appear that they have confused it with a nearby but now plough destroyed mound a short distance to the west.
Date:
Bronze Age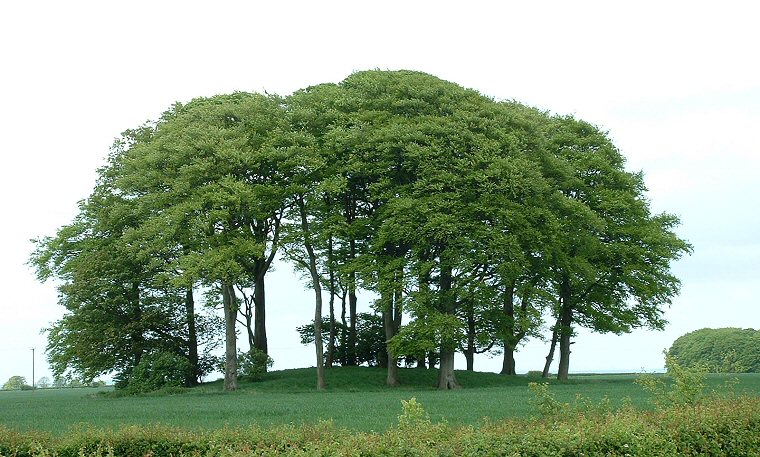 Barrow at SE822570 at the far eastern end of the group.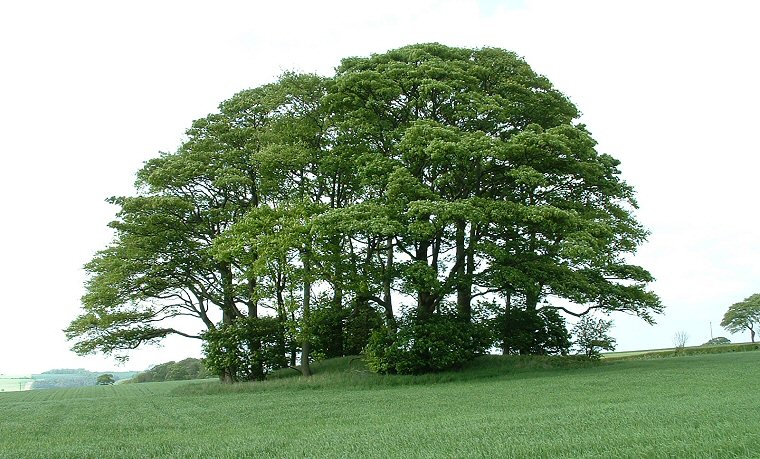 Barrow at SE808568 towards the western end of the group.
Back to Map | Home | Full Glossary | Links | Email: chriscollyer@stone-circles.org.uk