Glyn
Neolithic Chambered Tomb
Southwest of Benllech, Anglesey, Wales OS Map Ref SH51428172
OS Maps - Landranger 114 (Anglesey), Explorer 263 (Anglesey East)

---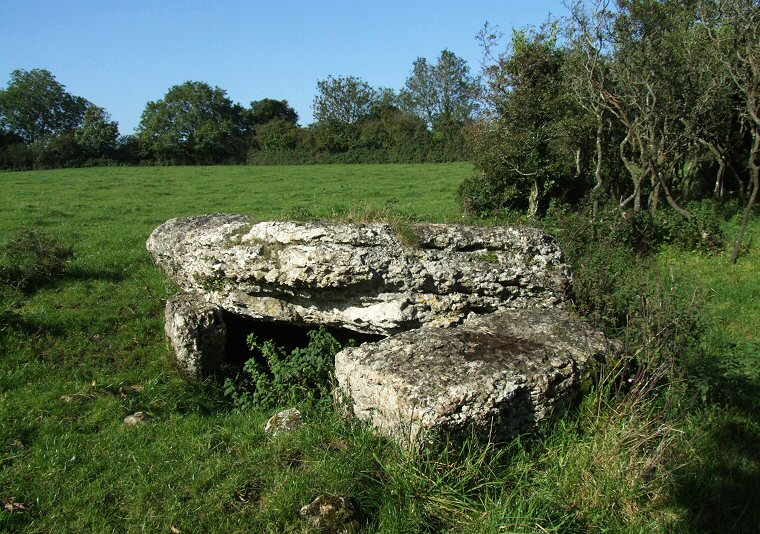 Glyn chambered tomb - front view.
The
chambered tomb
of Glyn is situated on a gentle southeastern slope just outside the village of Benllech above Red Wharf Bay to the east of Anglesey with another
Neolithic
tomb of
Pant-y-Saer
less than 800 metres away to the northwest. What makes Glyn a little different to many tombs is that it is partly built into the underlying bedrock on the edge of a limestone terrace, instead of upright slabs chunky blocks of limestone have been used to provide support for the
capstone
. The capstone itself has broken into at least two pieces - I'm not sure if the block to the right in the picture above is a third piece - it would originally have been 4.5 metres long and the break can be clearly seen in the picture below with a 1 metre section lying to the left. There is very little trace of a covering mound, much of it has presumably been carted away for stone walling but CADW record a slightly raised area around the tomb having a diameter of about 14 metres that is presumably the remains of a covering
cairn
.
The tomb was partially investigated in 1909 but the excavator found that the contents of the chamber had already been rifled without any finds being recorded.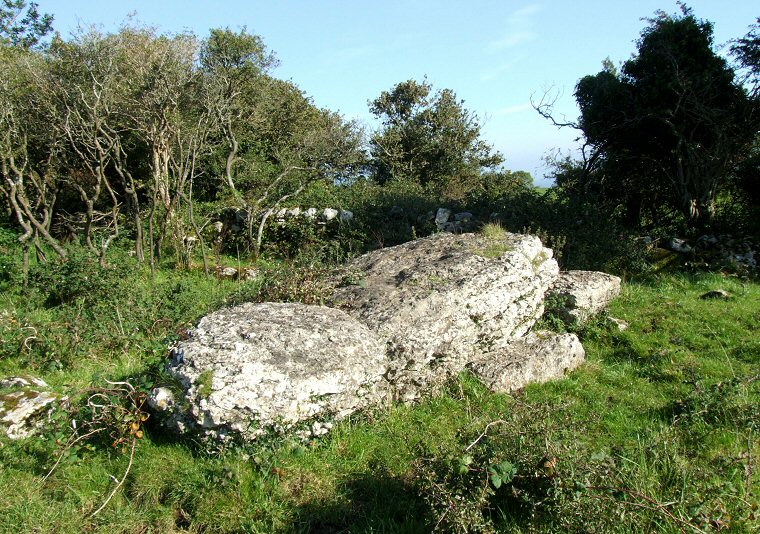 Glyn chambered tomb - side and rear view showing the break in the massive capstone.

Back to Map | Home | Full Glossary | Links | Email: chriscollyer@stone-circles.org.uk