Grey Stone (Harewood)
Bronze Age Carved Rock
Harewood House Estate, West Yorkshire OS Map Ref SE31484309
OS Maps - Landranger 104 (Leeds & Bradford), Explorer 297 (Lower Wharfedale & Washburn Valley)
---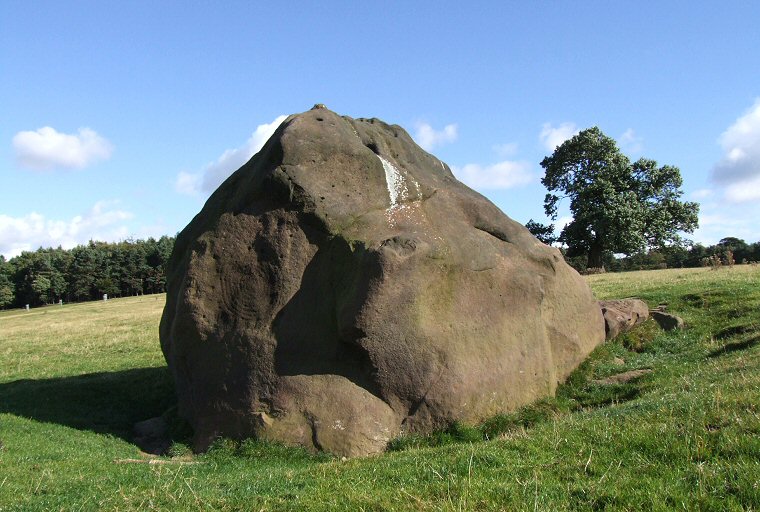 The Grey Horse Stone at Harewood. The six concentric rings can be seen to the left of centre.
The Grey Stone stands in the grounds of the Harewood House Estate and is recorded as stone number 399 in 'Prehistoric Rock Art of the West Riding' by Boughey and Vickerman (2003). Located on a hillside towards the southern end of the estate this large block of sandstone, which is thought to be naturally placed, stands looking not just north over the famous house itself but also northwest over the Wharfe Valley.
It is on this northwest face that the faint traces of a multiple
concentric ring carving
can be found, six rings are visible today and how clear they are on any particular day depends on the position and brightness of the sun. Interestingly there is no trace of a central
cup
mark that we would often expect to find on such carvings. Cup marks do however occur elsewhere on the boulder, four can be found on the northeast side while a group of seven are located towards the southwest. Due to the way that sandstone erodes there are many other indentations on the surface of the Grey Stone that may also be interpreted or misinterpreted as man-made marks.
Suggested Date:
Bronze Age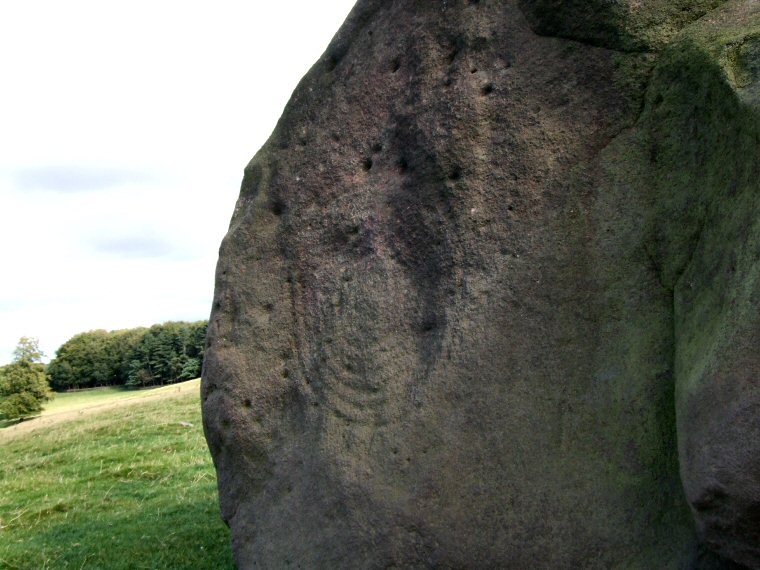 The carving on the northwest face is quite worn and its clarity often depends on light conditions.

Looking north over the boulder towards the Wharfe Valley to the left and Harewood House to the right. There is a small group of cups marks that are just about visible towards the right hand edge of the rock.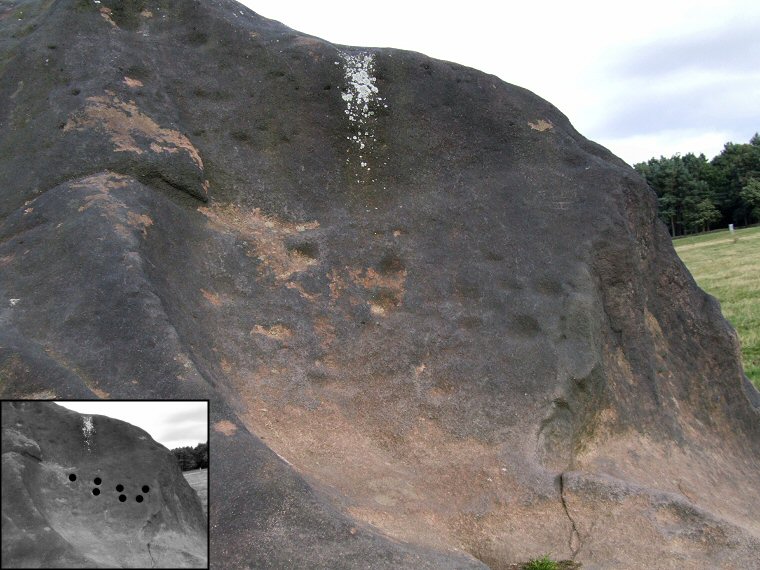 A group of cup marks on the southwest face. Several other marks towards the top left may also be man-made.
Back to Map | Home | Full Glossary | Links | Email: chriscollyer@stone-circles.org.uk