Greycroft Circle
Bronze Age Stone Circle
North of Seascale, Cumbria OS Map Ref NY034024
OS Maps - Landranger 89 (West Cumbria), Explorer OL6 (The English Lakes: SW Area)
---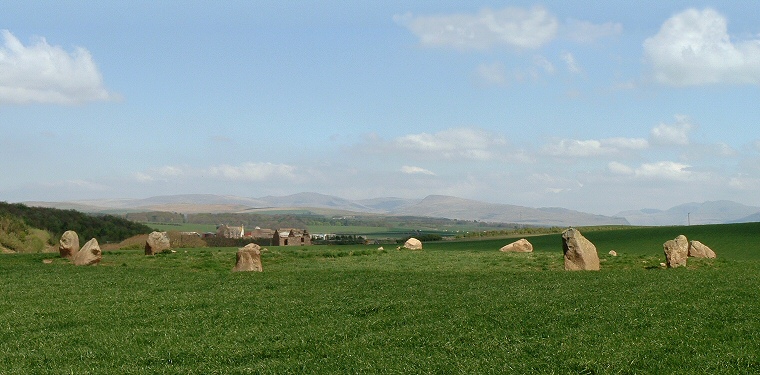 View of Greycroft stone circle looking northeast
This is a difficult site to visit as it stands less than half a mile away from the Sellafield nuclear power station - parking anywhere near the site is restricted and visitors are not generally welcome. However I managed to find a small lay-by on a minor road that leads up to Seascale Hall and luckily there is a public footpath that leads to the sea and passes around the edge of the field that holds the stone circle. The power station dominates the view to the north while there are more pleasant views of the Cumbrian fells to the east, the photograph above is of the view looking northeast towards the northern hills of the Copeland Forest. The Irish Sea is just a short distance to the west as can be seen below, at high tide only 500 metres from the circle, and it may well have had a influence on the builders decision to site the stones on this spot.

The circle itself consists of ten large boulders that remain of an original twelve stones - they were all pulled down and buried by a farmer in 1820 and the site was not restored until 1949, the tallest stones now stand over a metre tall and the circle has a diameter of about 27 metres. Pieces of burnt bone and part of a jet ring were found in a kerbed cairn at the centre of the circle as well as a broken Langdale axe close to a stone on the east.

The circle dates from either the late Neolithic or the early Bronze Age.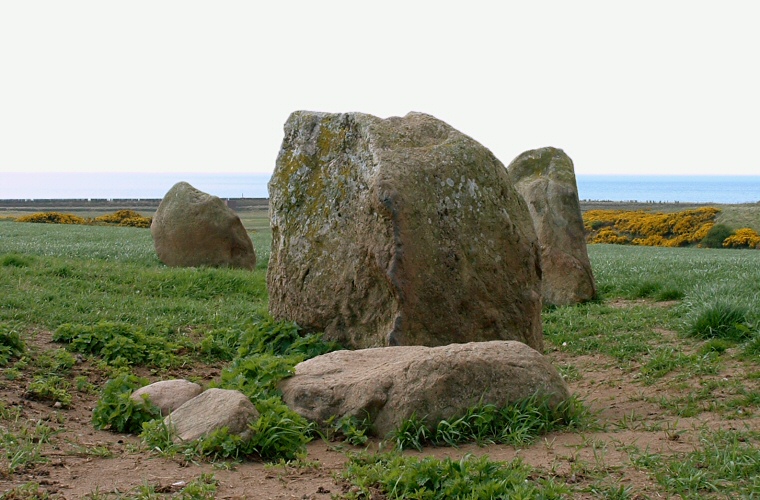 Stones of the circle - looking west to the Irish Sea
Back to Map | Home | Full Glossary | Links | Email: chriscollyer@stone-circles.org.uk