Hall Ings Barrow
Bronze Age Round Barrow
North of Hull, East Riding of Yorkshire OS Map Ref TA04903535
OS Maps - Landranger 107 (Kingston upon Hull), Explorer 293 (Kingston upon Hull & Beverley)

---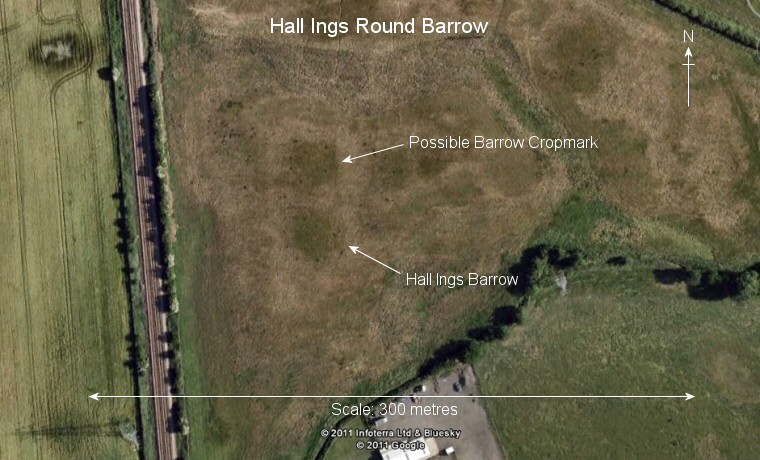 Google Earth image of Hall Ings Barrow and at least one other possible barrow.
This
round barrow
can be seen from the A1079 road that runs from the north of Hull towards Beverley and is sandwiched between this road, a line of electricity pylons and a railway line - it is also close to a motorbike training center and has been lucky to have survived the northward expansion of Hull and Cottingham. I couldn't get a photograph of it from the ground to the satellite image above will have to suffice.
The barrow is the sole survivor of a group of three that are said to have stood at Hall Ings and measures about 25 metres in diameter and a metre high with the crop mark of at least one other barrow a few metres to the north. This group of monuments were constructed on very flat land, there are no hills or views here but there are however a number of small streams nearby (such as Wanlass and Creyke Beck) and it could be that the area was formerly a marshy 'liminal' area unsuitable for livestock or habitation but ideal as a landscape of the ancestors.
Date:
Bronze Age
Back to Map | Home | Full Glossary | Links | Email: chriscollyer@stone-circles.org.uk