Honington Camp
Iron Age Camp/Settlement
Southwest of Ancaster, Lincolnshire OS Map Ref SK954423
OS Maps - Landranger 130 (Grantham), Explorer 247 (Grantham)
---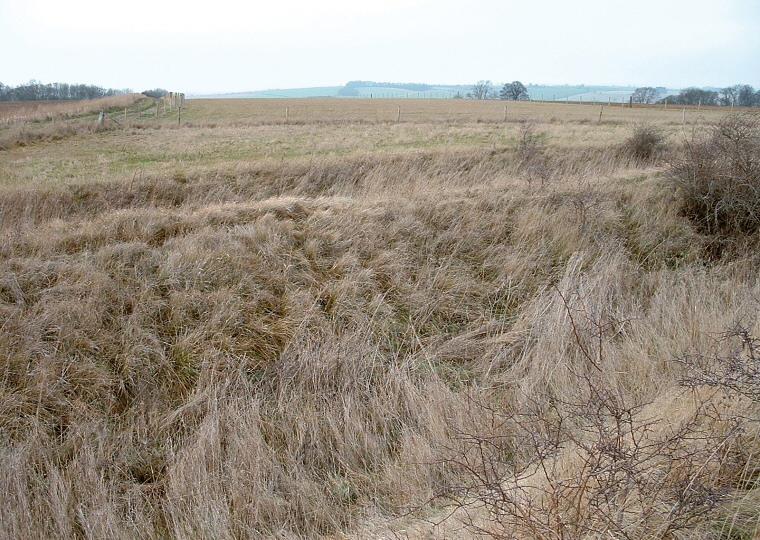 View across the western banks and ditches.
This well preserved set of earthworks is marked on the map as 'fort' and James Dyer in his book 'Prehistoric Britain' calls it an Iron Age hillfort but it is more probable that it falls into the category of a defended settlement or farmstead, these are much more common in the east of England than the hillforts of the upland regions.

The site is approached by a muddy and rutted track that starts at SK948431 then leads uphill and to the southeast. It takes a sharp right turn as the land levels off and continues along the side of a small wood for about 600 metres before turning left and leading 500 metres to the earthwork.

The camp or settlement sits below and to the northeast of the highest point of Barkston Heath and consists of a small roughly rectangular set of banks and ditches enclosing an area of between 0.4 and 0.5 hectares. The earthworks themselves comprise of a flat plateau surrounded by an inner bank, a ditch, a larger central bank, another ditch and then a lower outer bank or counterscarp. There is an entrance through the eastern defences and the ditches are still a couple of metres deep in places, the whole site being in remarkably good condition considering its exposed position and the fact that it sits on a gentle slope in good farming land. I can't see that its primary purpose was as a stronghold though, there are some clear views to the north and east but the middle distance view to the west is blocked and that to the south isn't fantastic plus the defences look like they could easily be overcome. It would perhaps have been the homestead of a small family group, perhaps farmers who were cultivating the lower slopes to the east that are now taken up with an airfield.

Finds from the site include some Roman coins (Ermine Street runs about a mile to the east) as well as remains of what could be Iron Age weapons and horse fastenings.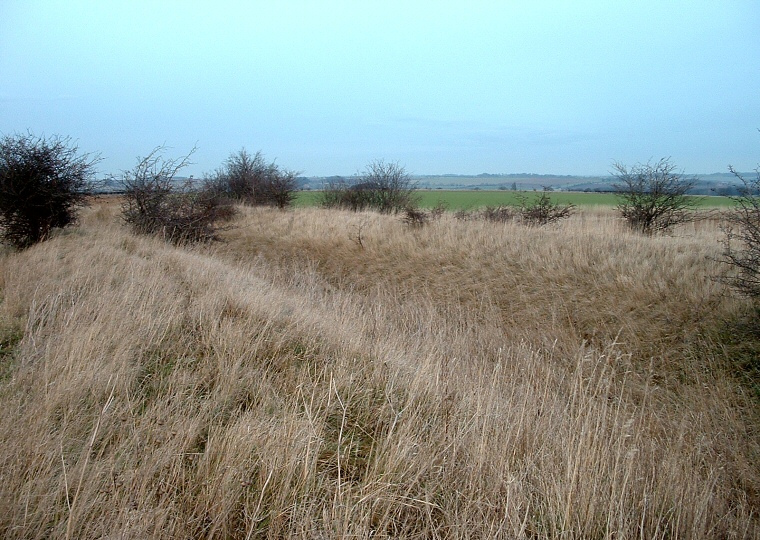 Looking along the eastern banks and ditches.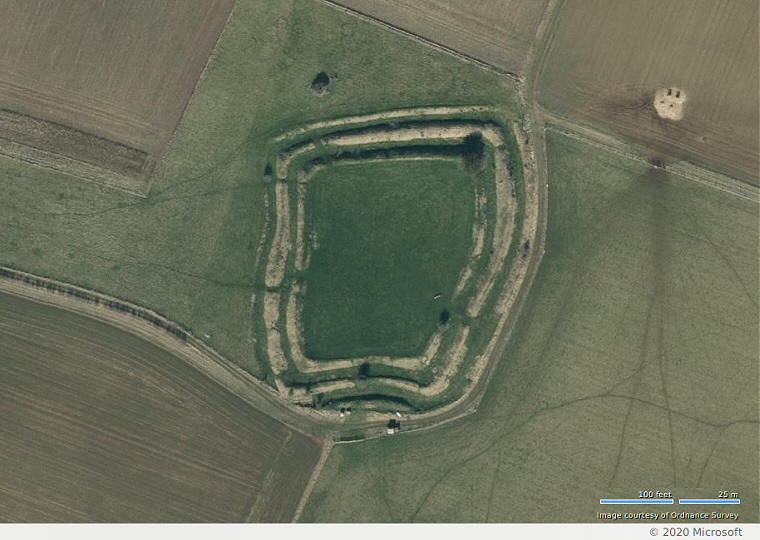 Bing satellite image of Honington Camp.
Back to Map | Home | Full Glossary | Links | Email: chriscollyer@stone-circles.org.uk