Julian's Bower
Turf Cut Maze - Age Uncertain
Alkborough, North Lincolnshire OS Map Ref SE879217
OS Maps - Landranger 112 (Scunthorpe & Gainsborough), Explorer 281 (Ancholme Valley)
---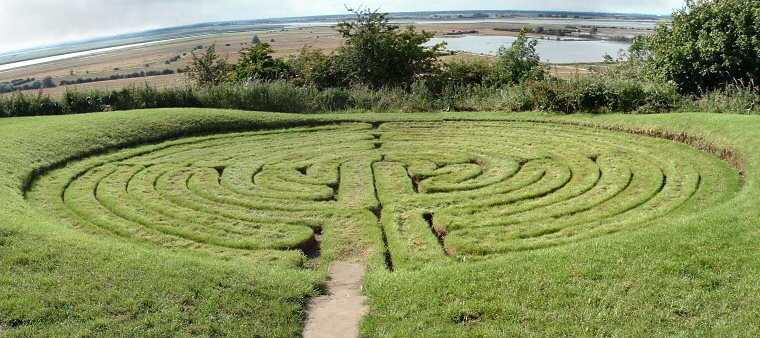 Julian's Bower after the recutting of 2007
A fine example of a turf-cut maze (sometimes known as a miz-maze), Julian's Bower stands on a hillside overlooking the confluence of the River Ouse and River Trent with the earthwork banks of the Medieval fortified settlement of Countess Close just a few metres to the south.

No-one knows who originally cut this 12 metre maze (technically a Labyrinth as it has a single entrance and path) or when, but it is only first recorded in 1697 by the diarist Abraham de la Pryme. Several theories about its origin and meaning exist and you may take your pick from the following:-

The idea of the maze comes from the legend of Theseus and the Minotaur. Theseus, son of King Aegeus of Athens used a ball of wool given to him by Ariadne to mark his way through the labyrinth of the Minotaur in Crete, slayed the monster and retraced his steps with the aid of the thread and so to safety. History also tells us that Julius, the son of Aeneas (a Trojan warrior who appears in Homer's Iliad and Virgil's Aeneid) brought the idea of turf-cut mazes to Italy from Troy after it was destroyed by the Greeks. Another story relates that St. Julian the Hospitaller, who set up a hostelry after accidentally killing his parents was one night visited by a leper. As there were no spare beds, he offered his own to he traveler, who then turned into an angel. Perhaps a more plausible theory is that the maze was carved by a small cell of monks who lived in this area until the 13th century.

The early Christian Church did indeed use the idea of mazes as symbolic of the path to heaven and also as a penitential device. Interestingly, the nearby Alkborough church has a copy of the maze inlaid into the porch floor and this is used as a template for the periodic re-cutting of the maze turf. There is also a copy in the east window of the church while a short distance away in the cemetery a stone cross marks the grave of J. Goulton-Constable which also bears a copy of the maze. Further copies are featured on the village signs of both Alkborough and nearby Walcot.

Whatever the origins of the maze, it has played an important part in the lives of the locals, and games are known to have been played here on May Eve until well into the 19th century.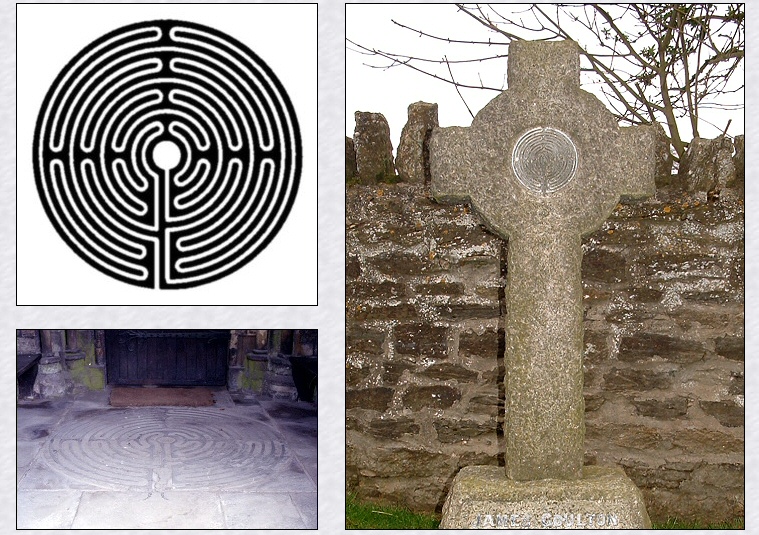 Left: Plan of Julian's Bower and a copy of the maze on the floor of the church porch.
Right: Another copy of the maze on a cross in the cemetery.
Back to Map | Home | Full Glossary | Links | Email: chriscollyer@stone-circles.org.uk