Ladybower Tor Carving
Bronze Age Carved Rock
North East of Ashopton, Derbyshire OS Map Ref SK20488689
OS Maps - Landranger 110 (Sheffield & Huddersfield), Explorer OL1 (The Peak District - Dark Peak Area)
---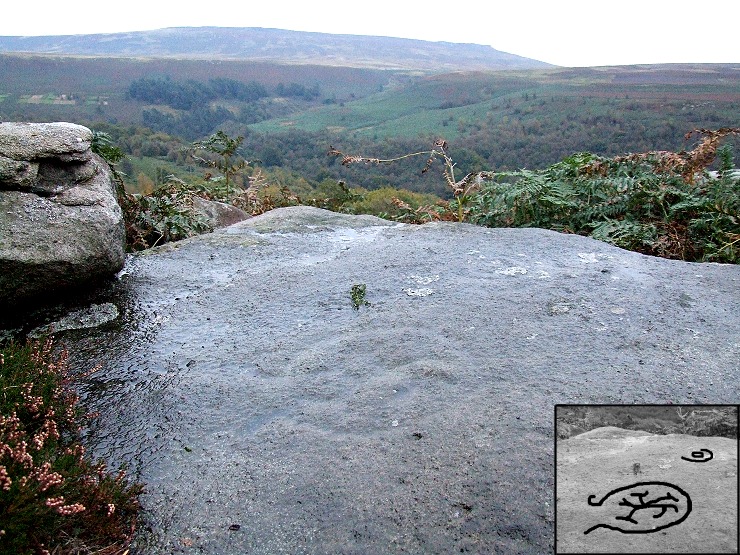 Looking east over the carved rock towards Hordron and Stanage Edge in the distance. The markings on this stone is very eroded and difficult to see, the inset image shows a rough interpretation of the carvings.
I had real difficulty finding this
carved rock
as it is very badly eroded and is situated amongst a jumble of rocks that form an outcrop on the eastern side of Ladybower Tor.
The designs are carved into the flat surface of a slab located just under the highest rock of the outcrop with views that sweep round from Hordron and Stanage Edge to the east, Bamford Moor and Edge to the south and Ladybower reservoir to the southwest. The actual motifs themselves consist of a small pair of rings near to the edge of the rock and a larger open ring that seems to have a pair of short tail emerging from the gap with an indistinct feature set within the centre.
What this central feature may be is unclear, it has been suggested that it forms a swastika - an ancient symbol used in many parts of the world that may represent the sun, but here it bears little similarity with the more well known example on
Ilkley Moor
. My suggestion is that it may form a stylized representation of the various rivers and valleys that have since been flooded to create the modern Ladybower and Derwent reservoirs, and hence may have formed a map or 'world view' with the encircling ring perhaps marking a territorial limit or boundary.
Suggested Date -
Bronze Age
Back to Map | Home | Full Glossary | Links | Email: chriscollyer@stone-circles.org.uk