Low Moor
Neolithic Long Cairn
East of Askham, Cumbria OS Map Ref NY537243
OS Maps - Landranger 90 (Penrith & Keswick), Explorer OL5 (The English Lakes: NE Area)
---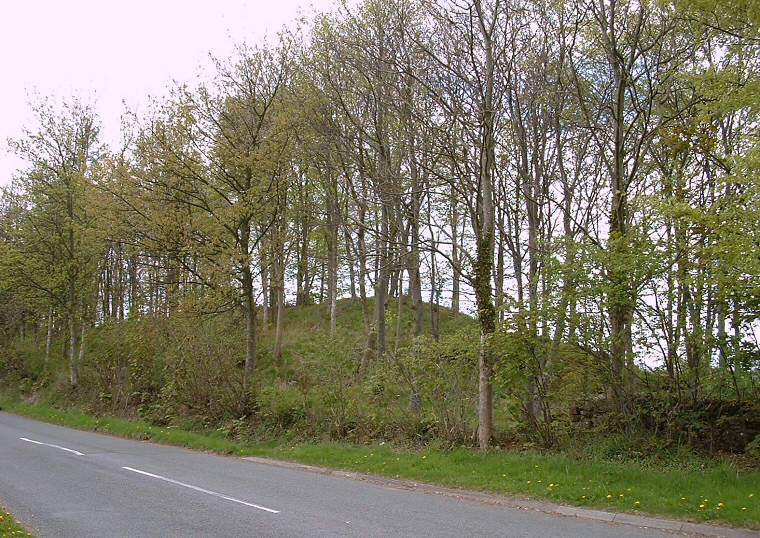 This long cairn is outwardly similar to the Neolithic long barrows that exist further south and east in England.

However instead of being a purely earthen mound, a long cairn consists of a rectangular trapezoid stone and earth mound with the burial remains inserted within stone cists rather than wooden or stone chambers.

The barrow at Low Moor is a huge example of this type of funerary monument being just over 100 metres in length and nearly 25 metres at its widest point. Aligned east to west and traversing the contours of the land at around 200 metres above sea-level, the western end is buried under tree growth while the eastern end (show above) stands at least 4 metres high before tapering gradually to ground-level where it seems to be heavily truncated by digging.

Whilst the barrow is only a few hundred metres from the M6 motorway, there is no access junction close by. It is easier to follow the A6 south from Penrith until it crosses over the M6. Almost immediately there is a turning to the right that leads to Newtown. Taking this turning, the barrow is about 100 metres down the road, on the right hand side under some trees.
Back to Map | Home | Full Glossary | Links | Email: chriscollyer@stone-circles.org.uk