Maen Llia
Neolithic / Bronze Age Standing Stone
South of Sennybridge, Powys, Wales OS Map Ref SN924192
OS Maps - Landranger 160 (Brecon Beacons), Explorer OL12 (Brecon Beacons National Park - Western Area)
---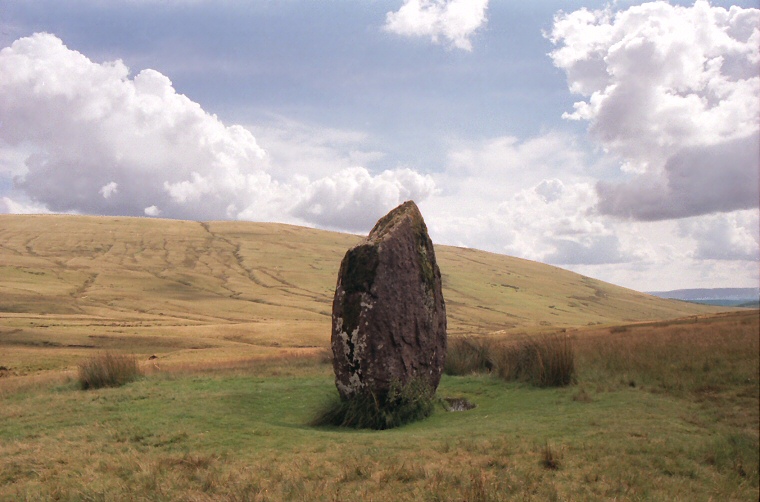 View of Maen Llia looking northwest towards the valley of the Afon Senni.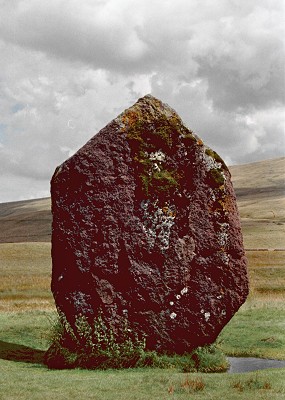 Situated in the beautiful wilderness between the Breacon Beacons and the Black Mountain overlooked by the hills of Fan Fawr and Fan Gihirych, Maen Llia is a truly massive sliver of rock. While it is over 3.5 metres tall and nearly 3 metres wide, it is only 75 centimetres thick and bears a striking resemblance to a giant Neolithic hand axe. Although it is aligned north to south, the sides of the rock become surprisingly warm to the touch on a sunny day.
This must have been an important pass between the hills, both to the local prehistoric population and to the Romans who came this way some 3000 years later - they built the road 'Sarn Helen' right by the stone and the current road still follows part of its course.
According to legend, Maen Llia climbs the mountain to drink from the river Nedd every morning as the cock crows.
Probable Date:
Neolithic
or
Bronze Age
Back to Map | Home | Full Glossary | Links | Email: chriscollyer@stone-circles.org.uk