This huge
hillfort
that dominates the landscape for miles around was in use in one form or another for something like 3500 years and consists of three separate occupation periods and construction projects.
The first use of the site was during the
Neolithic
period. A causewayed enclosure consisting of two banks 15 metres apart was constructed sometime between 3000-2000 BC at the eastern end of the hill enclosing an area of about 8 hectares. About half a millennium later a 500 metre bank was built running northwest to southeast - the burials of two young children were found beneath the eastern end.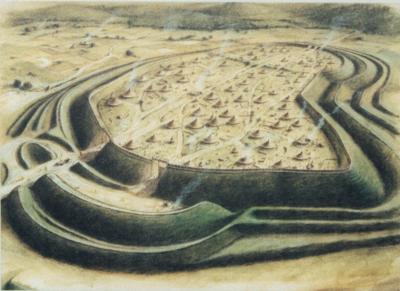 During the
Iron Age
, sometime around 600 BC, a single turf rampart and ditch structure with a single entrance to the west and a further double entrance to the east was built on the earlier enclosure. A couple of hundred years later the rampart and ditch was extended to cover the whole of the hill and now enclosed an area of around 18 hectares. The huge ramparts that can be seen today were begun around 350 BC and continued to be strengthened up until the 1st century BC when the complex western and eastern entrances were remodeled. The artists impression left shows how the site may have looked at this time viewed from the western entrance, looking east.
The hillfort is assumed to have been a regional centre for the local population who may have thought it to be impregnable - they were wrong. In AD43 Vespasian's Second Augustan Legion attacked the eastern entrance and overran the fort. Many burials were found in a war cemetery outside this entrance, one still had a Roman bolt embedded in his spine.
The fort was now abandoned and over the following years the population was relocated in the Roman town of Durnovaria (the modern Dorchester). However some time after AD 367 a
Romano-Celtic
temple was built at the northeast end of the hill. This consisted of a 12 metre square building that contained a shrine area in the centre and also a two roomed house just to the north. This temple continued in use until the end of the Roman occupation in AD410.