Pentre Ifan
Neolithic Chambered Long Barrow / Portal Dolmen
South of Nevern, Dyfed, Wales OS Map Ref SN09943701
OS Maps - Landranger 145 (Cardigan & Mynydd Preseli), Explorer OL35 (North Pembrokeshire)
---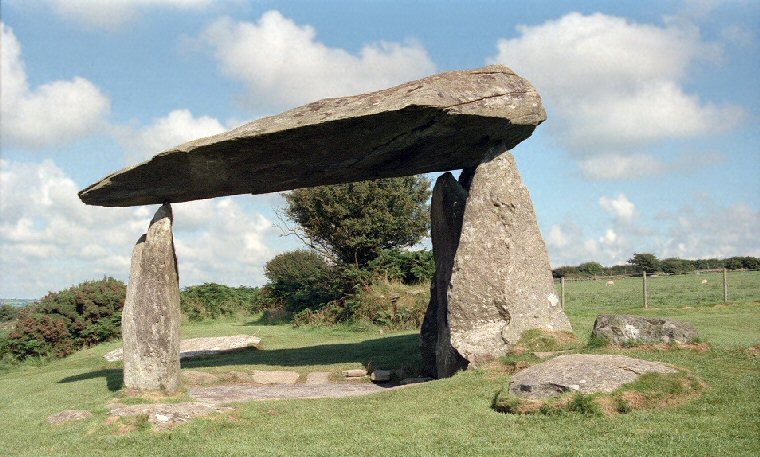 The famous western side view of Pentre Ifan. The fallen stones to the right may be part of the western forecourt.
Pentre Ifan is probably the most well known and most easily recognisable prehistoric monument in Wales. It is situated near the top of a gently sloping hill above the river of Afon Nyfer and to the north of the famous Preseli Mountains in the quiet corner of a field with views north towards Cardigan Bay and west towards the sacred hill of Carn Ingli.
The most obvious feature of the site is the large capstone measuring 5 metres in length and estimated to weigh around 17 tons that is delicately balanced 2.5 metres above the ground by three tapering uprights. The site did not however start its life in the form which we see it today. It began as a oval cairn surrounded by an outer drystone wall before being remodeled several times during which time the mound was extended to form a long barrow or long cairn about 40 metres in length. This mound ran down the slope of the hill and contained side chambers while at the higher end the famous portal dolmen arrangement with its blocking stone was flanked by a crescent forecourt of uprights of which two remain on the eastern side. Several other stones of various sizes are still scattered around but the covering of earth or stone has all but disappeared.
Various legends are attached to the site including those that say it was a Druidic college or the temple of Keridwen. There are even tales of fairies with red caps who are said to resemble small children in soldiers clothes.
Glossary Item: Neolithic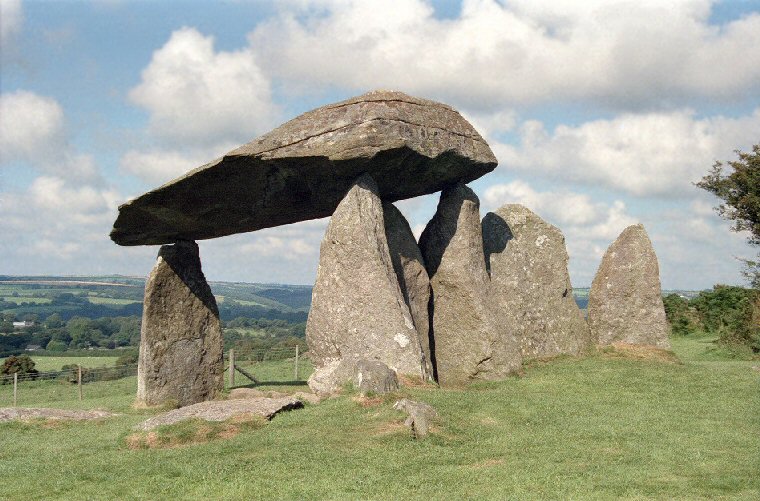 View of Pentre Ifan from the southwest with the valley of the Afon Nyfer in the background.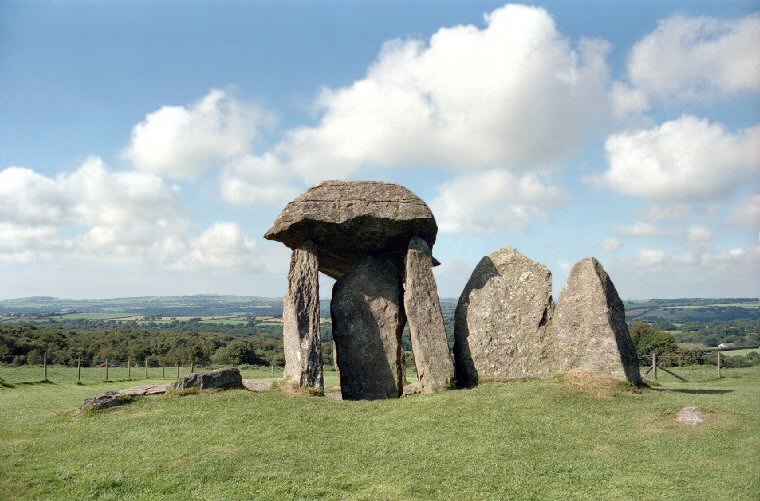 Looking north over Pentre Ifan. Broken and fallen stones to the left may be the remains of the western forecourt or facade, the pair of large slabs to the right are the eastern facade.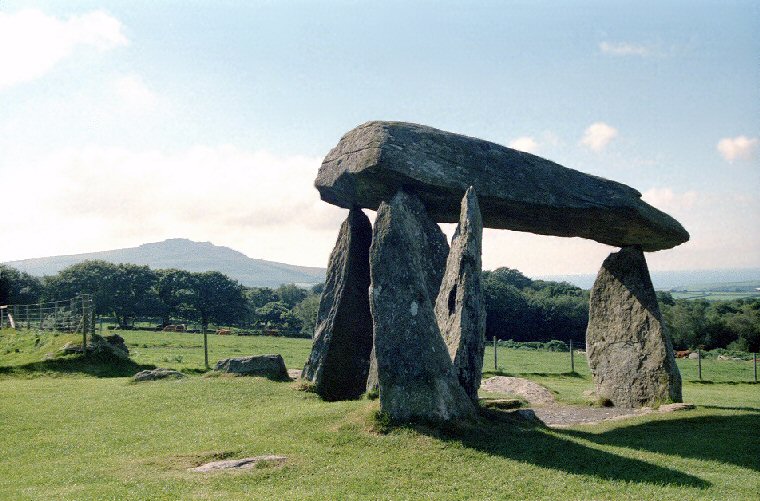 Looking towards the hill of Carn Ingli which dominates the western horizon.
Back to Map | Home | Full Glossary | Links | Email: chriscollyer@stone-circles.org.uk