Plas Newydd
Neolithic Chambered Tomb
Plas Newydd Park, Anglesey, Wales OS Map Ref SH51986972
OS Maps - Landranger 114 (Anglesey), Explorer 263 (Anglesey East)
---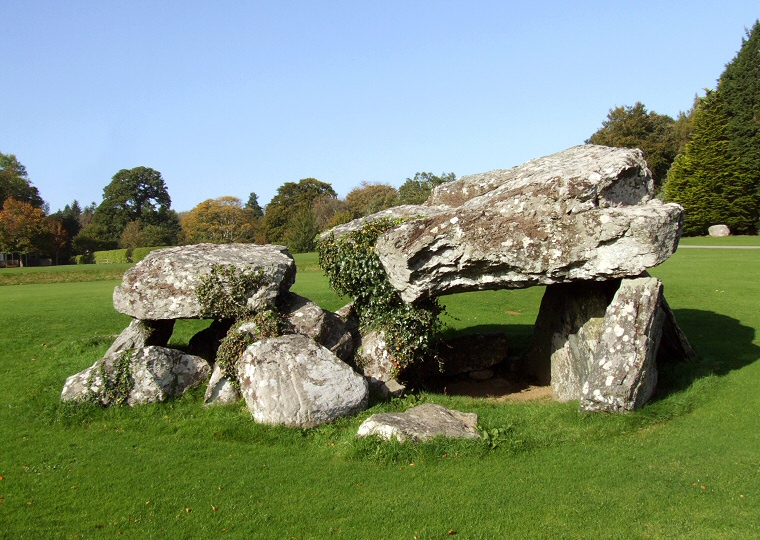 This
chambered tomb
stands in the private grounds of the Plas Newydd country park owned by the Marquess of Anglesey and the National Trust and cannot be approached directly but can be viewed at a distance from the car park and picnic area. Although they cannot be seen from the tomb the waters of the Menai Straight separating Anglesey from mainland Wales pass less than 300 metres away to the east behind the house and ornamental gardens.
The stones of Plas Newydd initially looks like two tombs - one massive to the northeast with a smaller neighbour standing close by to the southwest. This smaller structure (to the left in the photograph above) with its short supporting stones and own
capstone
measuring about 2 metres by 1.7 metres is now believed to have been either a partially collapsed ante-chamber or passageway into the main chamber.
The main part of the tomb itself consists of a single chamber formed by six uprights supporting a 3.5 metre by 3 metres wedge shaped capstone that is over a metre thick at its northern end. The chamber is open to the east and west but fallen stones on either side could well have formed part of the missing side walls.
If there was ever a covering of earth over this barrow then all traces have now disappeared - it is possible that the last traces of it were cleared away in the landscaping of the park.
Date:
Neolithic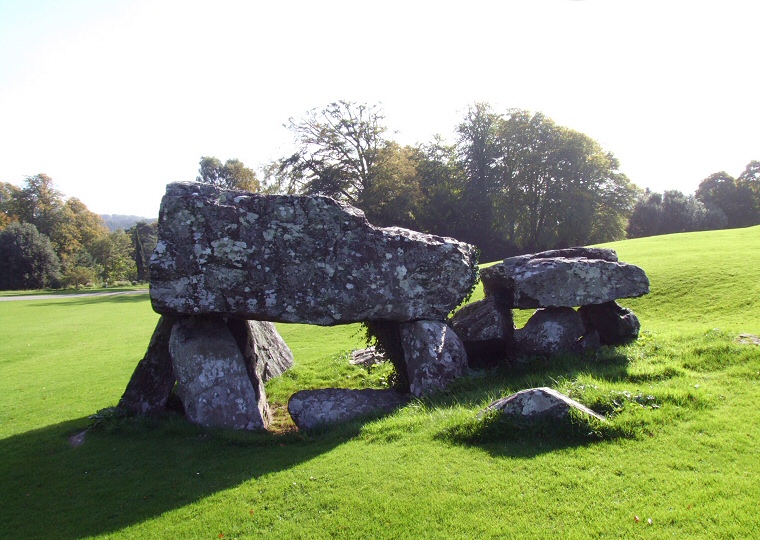 Plas Newydd looking southeast into glaring Autumn sunshine.
Back to Map | Home | Full Glossary | Links | Email: chriscollyer@stone-circles.org.uk