Ravenscar
Bronze Age Carved Rock (PRANYM PH1*)
Raven Hall Hotel, Ravenscar, North Yorkshire OS Map Ref NZ981018
OS Maps - Landranger 94 (Whitby & Esk Dale), Explorer OL27 (North York Moors - Eastern Area)

---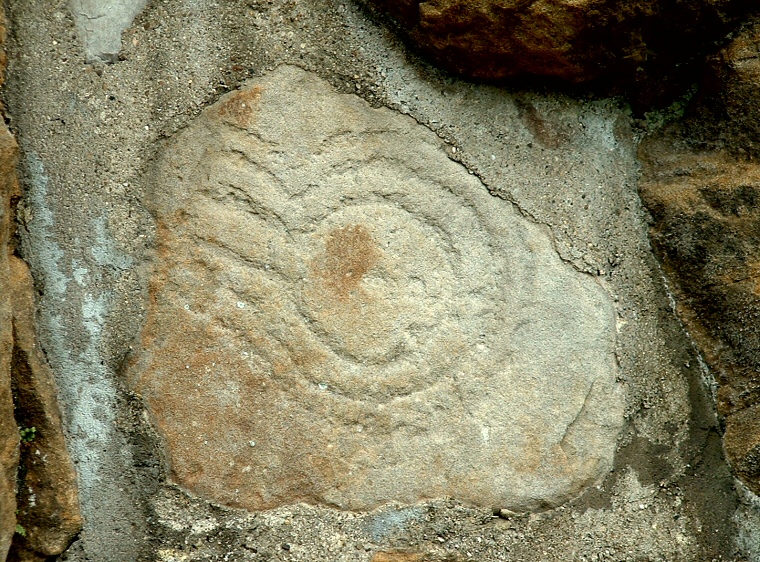 This
carved rock
is not in its original position so we have no context in which to guess its meaning or purpose. What we do know it that it probably came from a
barrow
excavated on Fylingdales Moor sometime in the 19th century and somehow ended up cemented into a wall within the grounds of the Raven Hall Hotel in Ravenscar. The antiquarian Canon Greenwell wrote in 1890 that there were actually eight carved rocks stored at the hotel - these other carvings have since been moved or lost.
This one remaining carved rock has a shallow
cup
and three sets of concentric partial rings or penannulars from which three lines of grooves extend at an angle to form what is known as a keyhole motif. The whole design has been quite lightly pecked out of the surface of the rock and the original pick marks can still be clearly seen. This suggests that the rock has not been exposed to the elements for long and would accord with the reports of it being found within the protecting mound of an barrow or
cairn
.
*Update: Recorded as stone number PH1 in Chappell & Brown's 'Prehistoric Rock Art in the North York Moors' 2005 (PRANYM), it is now thought it may have come from one of the barrows that once stood a short distance to the south of the Hotel. See also the York Museum Stone which may be one of the lost stones mentioned above, another may be located in Scarborough Museum.
Probable Date:
Bronze Age
Back to Map | Home | Full Glossary | Links | Email: chriscollyer@stone-circles.org.uk