Ringmoor Row
Bronze Age Stone Row and Cairn Circle
Ringmoor Down, Dartmoor, Devon OS Map Ref SX56336582
OS Maps - Landranger 202 (Torbay & South Dartmoor), Explorer OL28 (Dartmoor)
---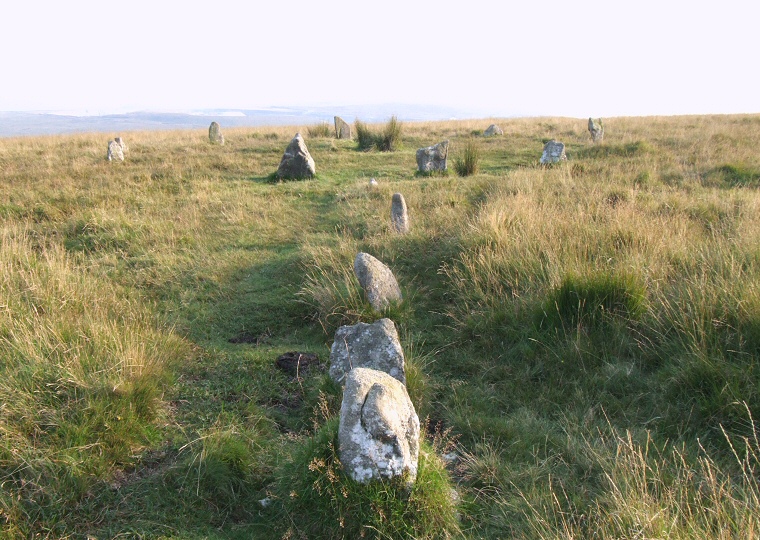 Southern end of the row looking south over the cairn circle towards Shaugh Moor in the distance.
To the north of the
stone circle
at
Brisworthy
is this low
cairn
with a retaining kerb of standing stones which marks the southern end of a ragged stone row running south-southwest to north-northeast towards the centre of Ringmoor Down.
Not all here is as it seems though, the cairn circle is a rather dubious reconstruction carried out by Reverend Sabine Baring-Gould in 1909 (who incidentally wrote the hymn 'Onward Christian Soldiers) the work being criticized by the same Mr. Worth who rebuilt the nearby Brisworthy circle in the same year. At this time there was only a solitary stone still standing at the site while four others lay fallen nearby, what Baring-Gould did was to re-erect these fallen stones as well as bring in several other seemingly random stones from elsewhere on the moor and place them in what he presumed were socket holes from missing stones. This has left us with ten uprights forming a circle with a diameter of 13 metres surrounding a low damaged cairn than measures about 7 metres in diameter and less than a metre high.
From the cairn circle the remains of the Ringmoor stone row emerges to lead nearly 350 metres across the Down where it ends with a one metre tall terminal stone. This row which is a double in some places and a single in others is quite badly damaged with English Heritage reporting less than thirty stones remaining although some are so short that others could lay undiscovered beneath the turf. Again it was partly restored by Baring-Gould and there is some suggestion that the double sections of the row may be down to his interpretation of the site rather than being an accurate recreation of what may have originally existed here.
Suggested Date:
Bronze Age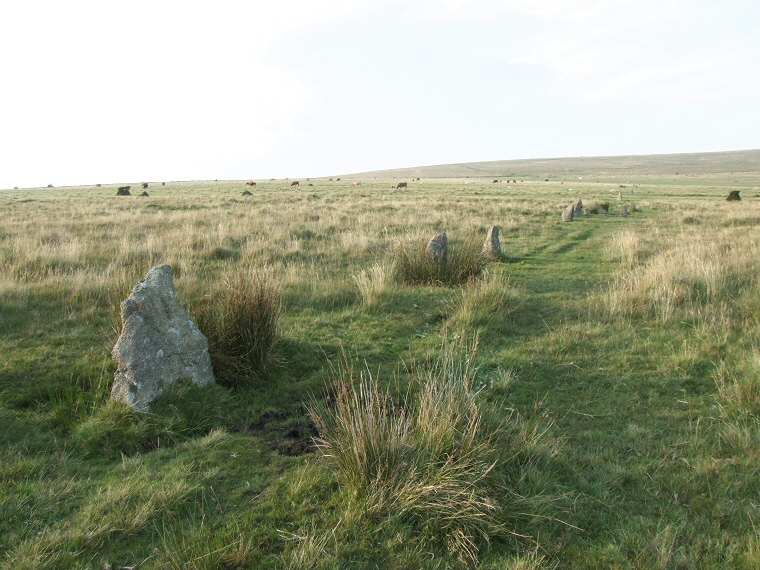 Looking north along Ringmoor Down stone row - the dots in the distance are cows.

Back to Map
|
Home
|
Full Glossary
|
Links
|
Email: chriscollyer@stone-circles.org.uk