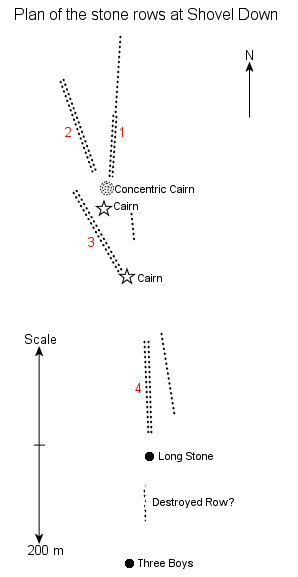 Shovel Down is the location of a mixture of prehistoric monument types including stone rows, standing stones, a concentric cairn circle as well as several other cairns and a settlement area with hut circles and an associated field system.
It is the stone rows that the visitor meets with first when walking uphill from Batworthy Corner. There appears to be four double rows and two singles with another destroyed row that form a staggered 'Y' shape running in a general north to south direction along a rise to the east of the Down, one runs north-south for about 180 metres (photograph at bottom of the page and marked as
1
on the plan left) with the stones about a metre apart and gradually increasing in height before ending at the south with a pair of large fallen pillars, one 2 metres long, the other about 3.5 metres in length. Just beyond are the overgrown remains of a small concentric stone circle or cairn consisting of four rings ranging from about 2.5 metres to 9 metres in diameter.
Another double stone row extends to the north-northwest (row
2
left) with three remaining stones of a stone circle to the west of its northern end. A third row to the centre of the site (image below and
3
left) starts just to the west of the concentric circle and heads south-southeast. Beyond this a fourth more damaged row heads south (
4
left) ending with a large upright known as the Long Stone which stands over 3 metres tall - initials carved into one face point to its more modern use as a boundary stone. A little further to the south is the remaining leaning stone of the 'Three Boys' although what this monument was is unclear.
Assuming that the rows, circles and standing stones are contemporary with the settlement sites it is interesting that the two groups of monuments stand apart with settlement to the west, ceremonial sites to the east.
The stone circle of Scorhill stands a mile away to the north-northwest on the other side of the North Teign river.
Date:
Bronze Age