Spinster's Rock
Neolithic Chambered Tomb
North East of Dartmoor, Devon OS Map Ref SX700908
OS Maps - Landranger 191 (Okehampton & North Dartmoor), Explorer OL28 (Dartmoor)
---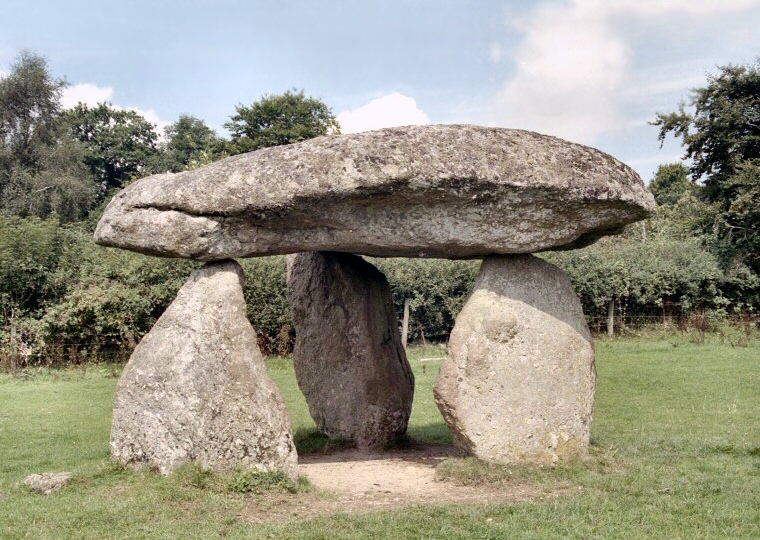 Right on the northeastern edge of Dartmoor, at the head of a valley and stream that flows southeast into the River Teign stands the remains of this improbably handsome
chambered tomb
.
Although the stones collapsed during a violent storm in 1862, the tomb was rebuilt with the help of sketches drawn a few years before, although the drawings differ somewhat from what we see today. What we now have consists of three uprights, the largest over 3 metres in height with the corner of one stone cut away to help hold the 16 ton
capstone
. It is unclear if the chamber was free-standing or set into a surrounding mound of earth or stone as no trace of any such structure remains..
This whole area was formerly rich in prehistoric remains, sadly now gone except for this burial chamber standing lonely in a farmers field and commemorated in the name of the village - Drewsteignton - meaning 'farm at the Druid's stones'. According to legend the stones were erected by three spinsters or witches before breakfast one morning.
Date:
Neolithic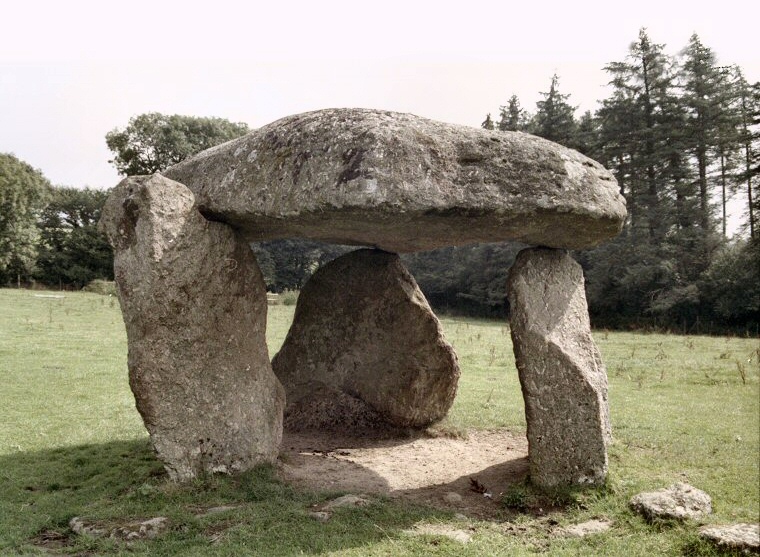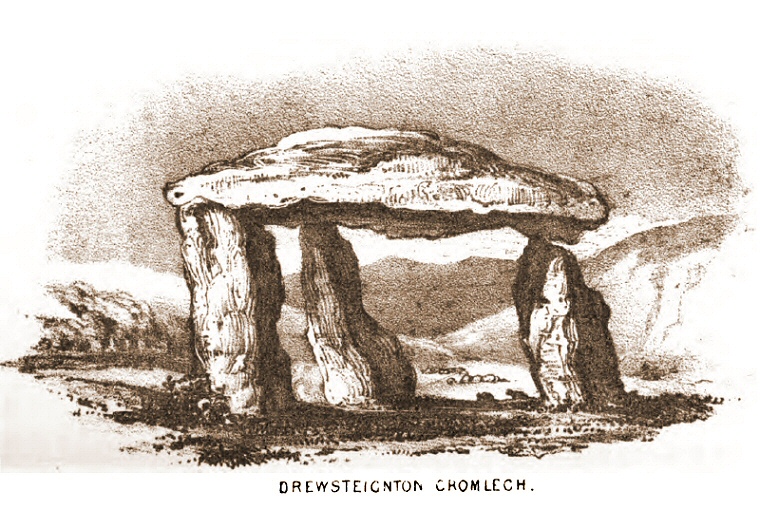 Illustration of Spinster's Rock taken from 'A Perambulation of the Antient and Royal Forest of Dartmoor' by Samuel Rowe 1848. I'm not sure if this is the sketch used to reconstruct the tomb after it collapsed but it appears to show the two tallest stones being of the same length whereas the reconstruction has the two shortest stones the same length. The capstone also appears higher in the sketch but some of these old illustrations could be guilty of a little 'artistic licence' when it comes to scale. Maybe the artists who produced the most dramatic images rather than the most accurate got more work?
Back to Map | Home | Full Glossary | Links | Email: chriscollyer@stone-circles.org.uk