Swinside / Sunkenkirk Circle
Neolithic / Bronze Age Stone Circle
North of Hallthwaites, Cumbria OS Map Ref SD17178818
OS Maps - Landranger 96 (Barrow-in-Furness), Explorer OL6 (The English Lakes: SW Area)
---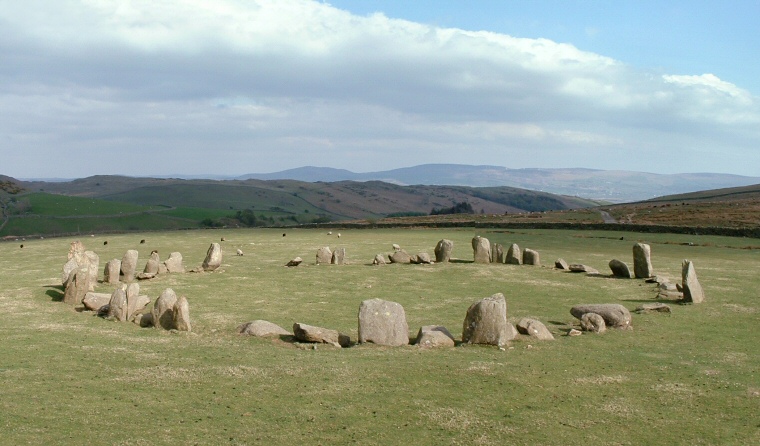 This is a fantastically picturesque
stone circle
that stands on a small plateau of land with Thwaites Fell to the north and more closely overlooked by Swinside Fell to the west . The circle stands far from the main A595 road and nearly a mile from a back road that leads north from close to the village of Halltwaites to Cragg Hall. It is best to park close to the turn for the Hall and then follow a rough track on foot that leads northwest to Swinside Farm - the circle is on the right just before reaching the farm and can be seen from some distance away.
The site itself consists of a 28 metre diameter ring of about fifty-five close set stones of porphyritic slates - the remains of an original sixty stones. Around thirty are still standing with the tallest stone to the north being about 2.3 metres in height, to the southeast is a gap that forms an entrance to the circle which is further marked by two large outer portal stones and it could be that this formed a sightline to the midwinter sunrise.
There have been few finds from the circle but excavations at the turn of the 20th century discovered that the area had been leveled prior to the erection of the stones - the name Sunkenkirk comes from a legend that the Devil pulled down the stones each night as the circle was being built.
Date: late
Neolithic
or early
Bronze Age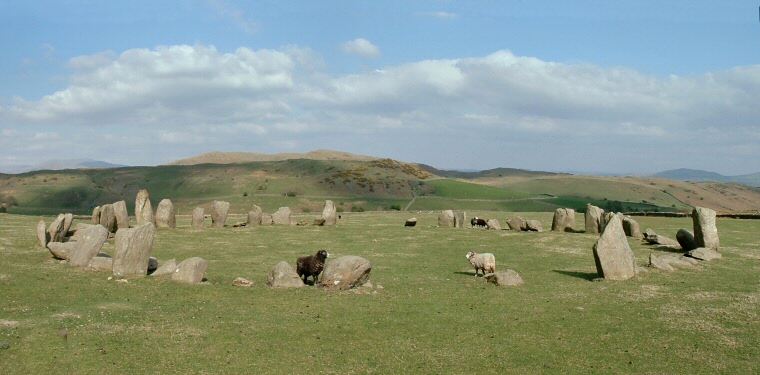 Sunkenkirk or Swinside Circle, looking to the east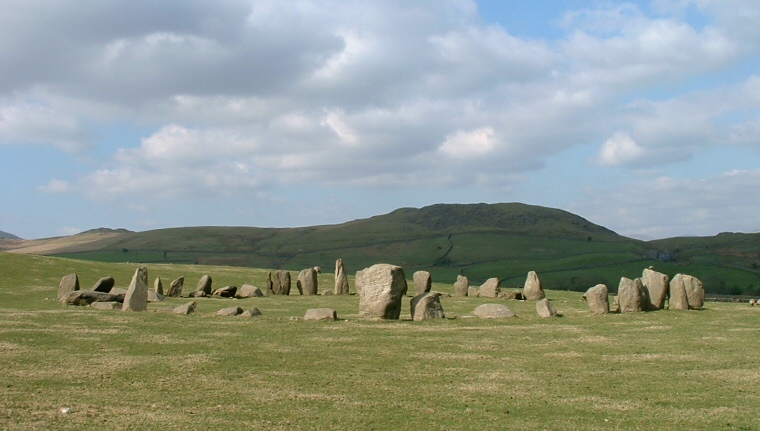 Looking roughly north over Sunkenkirk with Mere Crags on the left, Lath Rigg centre right
Left: Stone with quartz veins to the south of the circle. Right: Stones of the northern arc
Back to Map | Home | Full Glossary | Links | Email: chriscollyer@stone-circles.org.uk