Situated on the edge of a wooded grove just down the road and round the corner from
St. Lythans
barrow, the partially restored remains of Tinkinswood form an impressive
chambered tomb
of the 'Cotswold-Severn' type.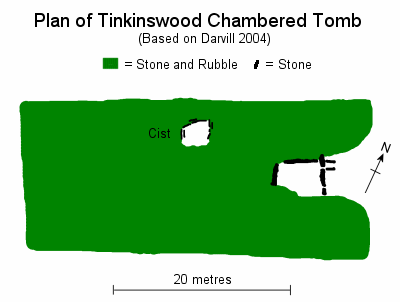 The site consists of a rectangular mound some 40 metres long and nearly 20 metres wide oriented southwest to northeast built of rubble and stone blocks and edged with a course of drystone walling that curves inward at the eastern end to form an impressive forecourt. These distinctive horned forecourts are a common feature of Cotswold-Severn tombs and may have formed a focus for funerary rituals.
Behind the forecourt a short entrance leads to a single burial chamber formed by five upright slabs supporting the largest
capstone
in Britain, a massive flat slab measuring around 7 metres in length, 4.6 metres wide, a metre thick and weighing over 40 tons The chamber was excavated in 1914 and was found to contain the remains of more that fifty individuals along with the remnants of animal bones,
flint
tools and pottery. There is also a stone-lined
cist
located towards the northern edge of the mound that may be the remains of an earlier barrow which was later incorporated into the mound.
Tinkinswood was formerly known as Castell Carrigan, meaning the Witches Castle, and according to legend it represents a group of women turned to stone for dancing on the Sabbath - a common piece of folklore attached to many ancient sites, particularly stone circles.
This site is enclosed behind a gated wire fence (presumably to protect it from the sheep it shares a field with?) and is a short walk from a small parking place on the St Nicholas to Dyffryn Gardens road. Beside this path are several large stones but whether they are connected with the site is not clear.
Date:
Neolithic