Ty Newydd
Neolithic Burial Chamber
Llanfaelog, Anglesey, Wales OS Map Ref SH34427386
OS Maps - Landranger 114 (Anglesey), Explorer 262 (Anglesey West)
---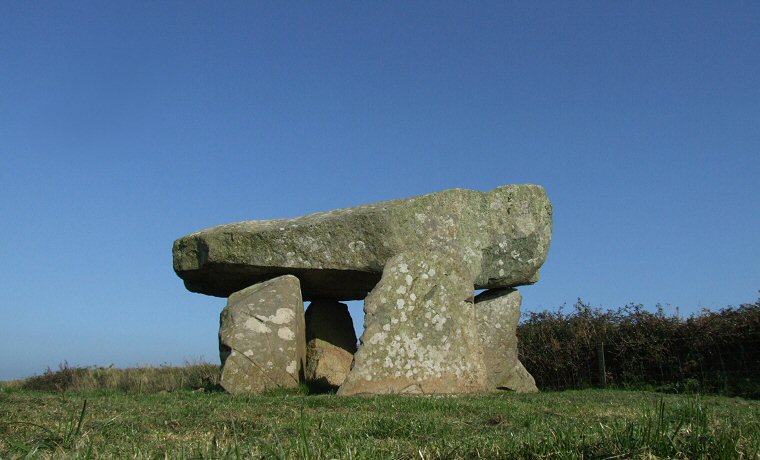 View of Ty Newydd looking north with an outlying stone hiding the brickwork that supports the capstone.
This chambered tomb has be restored - but unsympathetically (see photograph lower right). The huge tilted capstone split and is now partly supported by brickwork and concrete. It is a shame as this once impressive monument built on the northeast slope of a slight hill above Llanfaelog on the western coast of Anglesey, provides a striking profile from certain angles but the intrusive modern restoration is difficult to ignore.
What is even more tragic is that early reports claim a second larger chamber existed close-by, this has long since been broken up and carried away as has any surface evidence of a covering stone cairn so it is impossible to establish the original layout of the site although several small concrete markers around the chamber hint at the possible extent of the vanished cairn. The wedge shaped capstone is particularly narrow (see picture lower left) measuring nearly 4 metres by 1.6 metres (although it would have originally been wider as part of the southern edge has been broken off) and rests on three uprights with a possible chamber entrance to the southeast. A further outlying upright stands just to the south (to the left in lower left picture).
Although there were no finds of human remains at the site when it was excavated in 1935, evidence of a large fire in the form of a thick layer of charcoal was recorded as well as a quantity of quartz fragments and a flake from a polished stone axe as well as other flint flakes. A sherd of later beaker pottery and a barbed and tanged arrowhead would suggest that although the tomb dates from the Neolithic there was activity here in the early Bronze Age and the fact that the arrowhead was in a burnt condition may indicate the fire occurred at this later date.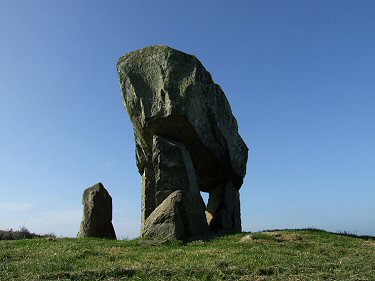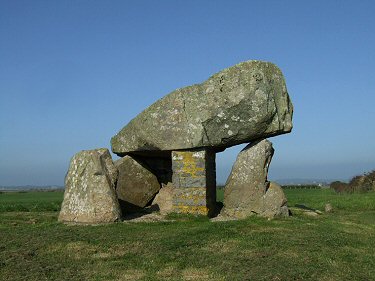 Back to Map | Home | Full Glossary | Links | Email: chriscollyer@stone-circles.org.uk