Wet Withens (Eyam Moor I)
Bronze Age Embanked Stone Circle
Northwest of Grindleford, Derbyshire OS Map Ref SK22547900
OS Maps - Landranger 119 (Buxton & Matlock), Explorer OL24 (The Peak District - White Peak Area)
---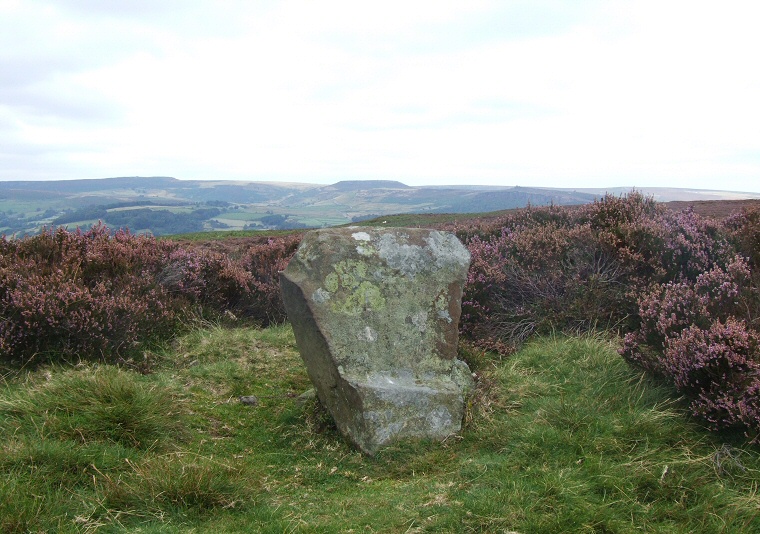 Set on a gently northwest sloping shelf high on Eyam Moor at 339 metres above sea level the stones of Wet Withens stone circle are almost invisible beneath a thick covering of heather and tall grasses. Indeed many people would not even notice the site as it is so badly overgrown and no paths pass anywhere near it - the nearest track is 500 metres away and reaching the circle from here involves an arduous uphill trek through that thick heather.

Even when you get there it takes a moment or two to recognise the remains for what they are - the largest Bronze Age embanked stone circle in Derbyshire. It is this bank that allows you to gain an understanding of the site, it is slightly oval measuring 29-31 metres on its inner edge and extending a further 3-4 metres beyond and about a metre tall (although this is difficult to gauge due to the covering vegetation) and does not appear to have any entrances. Set within the inner edge of the bank are ten smallish stones ranging in height from about 25cm to 70cm, some are standing while others are leaning. The southern half of the circle is the most complete with eight stones forming an arc stretching round from the east to nearly the west while just two stones remain of the northern section. It has been suggested that there may have originally been up to eighteen stones here, the missing stones either carted away for other purposes in recent times or buried beneath tumbled parts of the bank. There is also a suggestion from the late 19th century that there was a standing stone at the centre - whether this ever existed or not is in doubt, what does remain towards the centre however is a small cairn of stones. About 10 metres to the north of the circle is the large pile of stones of Eyam Cairn.

The most noticeable of the circle stones stands to the northeast (image at top of page) and is thankfully free of vegetation. It is also the tallest stone at the site and has a small ledge cut out of its inner face so that it resembles a small chair as well as having a couple of small possible cups on its outer face. The top of this stone bears a strikingly similar profile to the outcrop of Higger Tor which can be clearly seen 4.25km (about 2.6 miles) away to the northeast and it is from behind Higger Tor that the midsummer sun rises when seen from the circle.

The location of Wet Withens gives it a fantastic 360 degree view of the surrounding landscape, particularly from the northwest round to the northeast beyond the valley of the River Derwent - this is difficult to photograph but is well illustrated by the 360 degree panorama.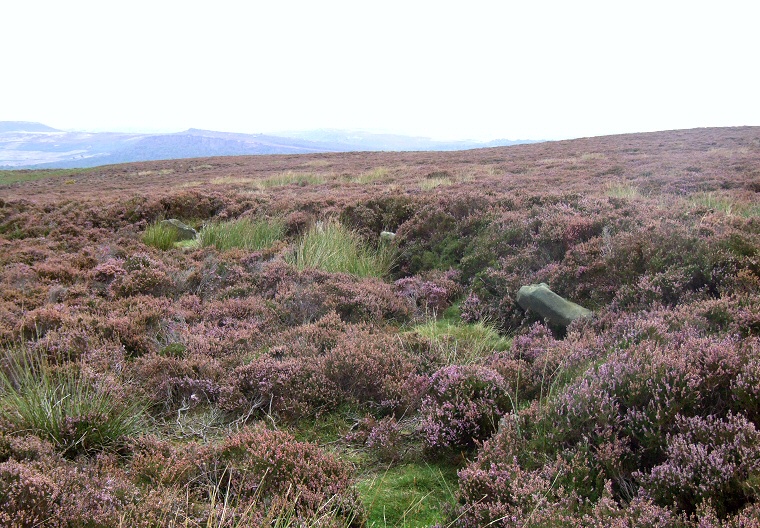 View of the bank looking north east with an arc of three stones visible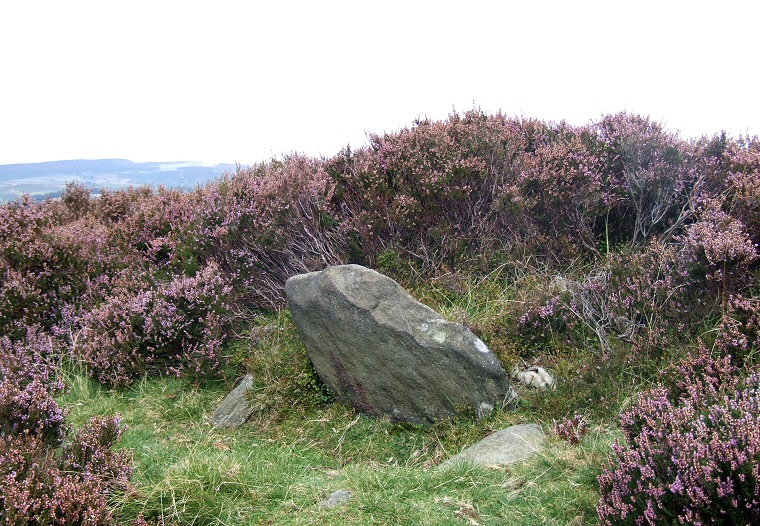 One of the stones of the circle with the bank immediately behind
Back to Map | Home | Full Glossary | Links | Email: chriscollyer@stone-circles.org.uk