Willerby Wold
Neolithic Long Barrow
North East of Foxholes, North Yorkshire OS Map Ref TA030761 Elevation: 160M OSD
OS Maps - Landranger 101 (Scarborough), Explorer 301 (Scarborough, Bridlington & Flamborough Head)
---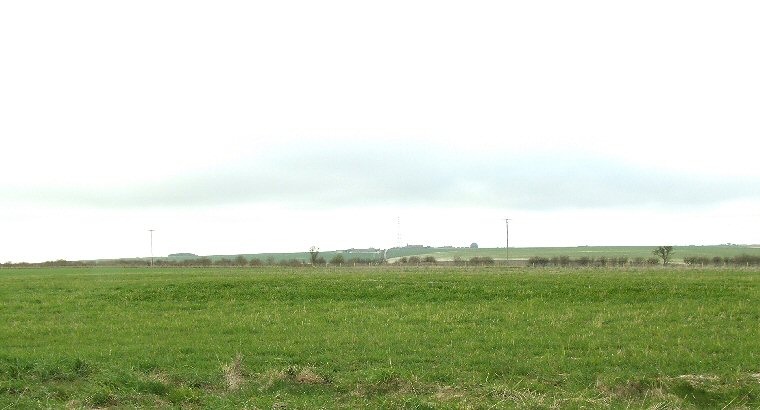 Looking north over the western end of Willerby Wold long barrow, visible as the slightly darker patch of grass.
There is very little to see on this site now as the
long barrow
and the surrounding later
round barrows
have been badly ploughed over the years. However if you stand at the bend in the road (see map) with the field boundary in front of you then the east end of the long barrow can just about be made out in the field to the right although there are the low remains of a bowl barrow between it and the road. To the left of the boundary there are a couple of low round barrows recorded by Canon Greenwell but unexcavated. The large mound that can be seen on the horizon to the south west is Prior Moor barrow.
The long barrow is around 50 metres long and 13 metres wide oriented east-west and around half a metre high at the eastern end. The north and south flanking ditches are completely filled. The barrow has been excavated twice – by Greenwell in 1865 and Manby in 1958 and between them they found 3 burials, a collection of bones and remains of cremations, sherds from pots and flint fragments. The mortuary structure was trapezoidal with a concave wooden palisade at the east end, the whole thing being covered with an earth and chalk mound before being fired – creating a crematoria with temperatures estimated to have reached nearly 1200 centigrade. Radiocarbon tests from the site suggest a Neolithic date of around 3000BC.

Back to Map | Home | Full Glossary | Links | Email: chriscollyer@stone-circles.org.uk