Wyke Down
Bronze Age Barrow Cemetery
Southeast of Sixpenny Handley, Dorset. OS Map Ref SU00731529
OS Maps - Landranger 184 (Salisbury & The Plain), Explorer 118 (Shaftesbury & Cranborne Chase)
---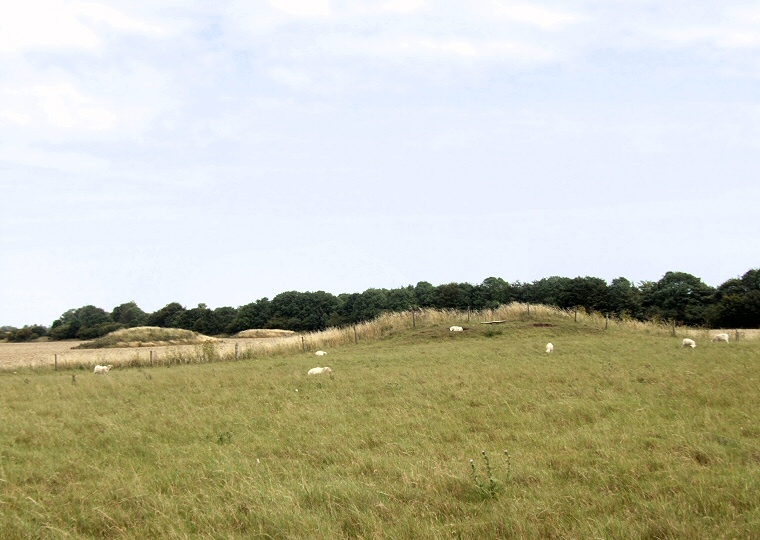 Three of the Bronze Age round barrow of the Wyke Down group seen looking east from the minor road leading from the quaintly named villages of Sixpenny Handley to Monkton Up Wimborne.
The barrow in the foreground now forms part of a field boundary while the barrow furthest from view, close to the trees, stands within the Dorset Cursus - was this a sign that whatever symbolism and meaning that the Neolithic cursus once had no longer held sway during the later Bronze Age?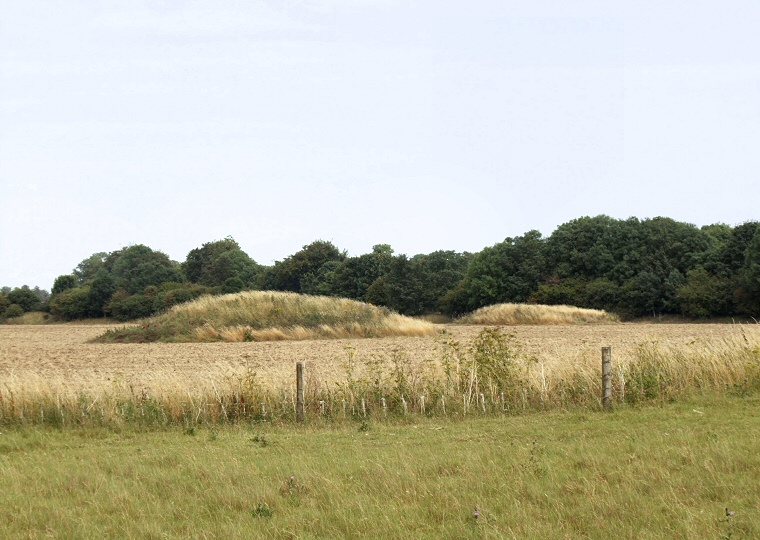 A closer view of the pair of barrows standing in the distance in the photograph at the top of the page.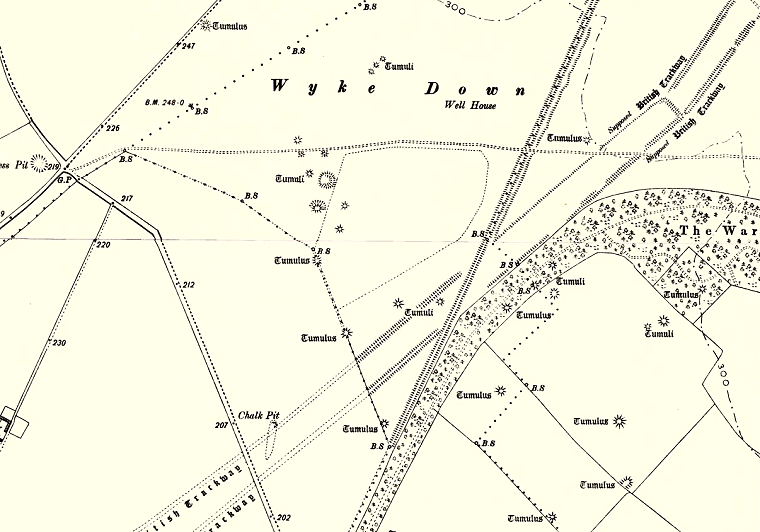 Plan of the barrows on Wyke Down from a 19th century map showing the rather scattered nature of the cemetery, the photographs at the top of the page show the line of three barrow just below the centre of the map. The barrow towards the lower right cut by a field boundary is marked as a long barrow on later maps and if this is correct then it probably marks the founding monument on Wyke Down.
Running diagonally across the map are the parallel banks of a section of the Dorset Cursus (marked as 'British Trackway') showing the dog-leg where the northern end of the Gussage Cursus meets the southern end of the Pentridge Cursus. Cutting across the cursus is the single track of Ackling Dyke Roman road.
Map reproduced with the permission of the National Library of Scotland.

Back to Map | Home | Full Glossary | Links | Email: chriscollyer@stone-circles.org.uk