Baildon Moor 3
Bronze Age Rock Carving (PRAWR 151)
Baildon Moor, West Yorkshire OS Map Ref SE13734023
OS Maps - Landranger 104 (Leeds & Bradford), Explorer 297 (Lower Wharfedale & Washburn Valley)
---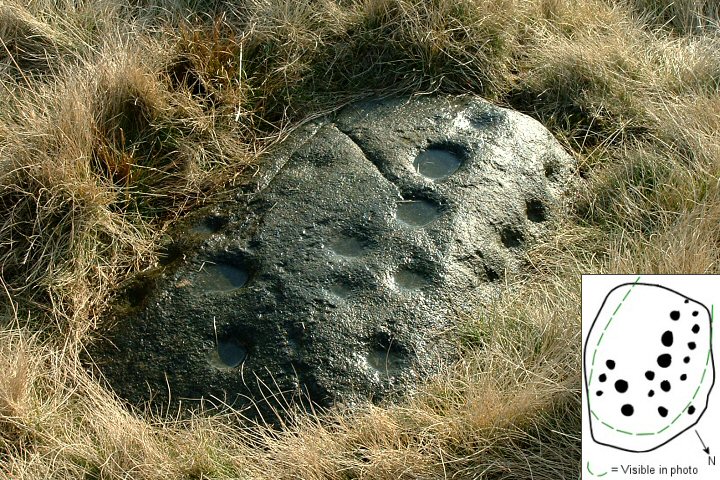 To the northeast of Dobrudden Farm, this is a particularly difficult stone to find even though it is close to a track and a bell pit, as it is fairly small and lower than the surrounding grass. It is an interesting stone however and worth hunting out as it has around a dozen cups on its top surface and also a line of six cups along its north-western edge.

Date: Bronze Age

See also:
Baildon Moor Introduction, Baildon Moor 1, Baildon Moor 2, Baildon Moor 4

References:
Boughey, K.J.S. and Vickerman, E.A. 2003. Prehistoric Rock Art of the West Riding. West Yorkshire Archaeology Service.

Back to Map | Home | Full Glossary | Links | Email: chriscollyer@stone-circles.org.uk