Baildon Moor 4
Bronze Age Rock Carving (PRAWR 146)
Baildon Moor, West Yorkshire OS Map Ref SE13673976
OS Maps - Landranger 104 (Leeds & Bradford), Explorer 297 (Lower Wharfedale & Washburn Valley)
---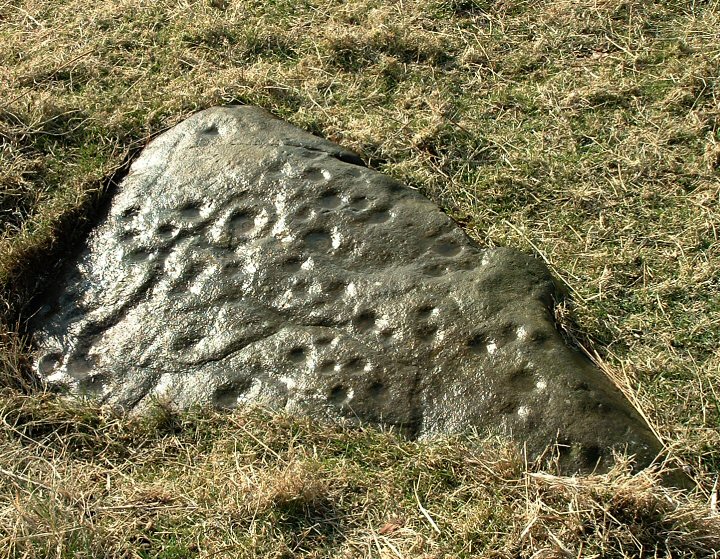 This triangular stone is the most highly decorated rock on Baildon Moor. It is covered with a complex series of around fifty cups along with rings and grooves in a baffling arrangement that defies easy description. Another striking thing about the stone is the view - down past Shipley Glen and over to Bingley and Saltaire.

To find this stone take the track that leads south from Dobrudden Farm towards a wall in the distance. When you reach it walk down its right hand side and past an entrance. From here head out diagonally, the stone is fairly visible, but when I was there about a quarter of it was covered with a layer of earth and grass.

Date: Bronze Age,

See also:
Baildon Moor Introduction, Baildon Moor 1, Baildon Moor 2, Baildon Moor 3

References:
Boughey, K.J.S. and Vickerman, E.A. 2003. Prehistoric Rock Art of the West Riding. West Yorkshire Archaeology Service.

Back to Map | Home | Full Glossary | Links | Email: chriscollyer@stone-circles.org.uk