Bar Dyke
Cross Dyke - Age Unknown
Southwest of Stocksbridge, South Yorkshire OS Map Ref SK24569452
OS Maps - Landranger 110 (Sheffield & Huddersfield), Explorer OL1 (The Peak District - Dark Peak Area)
---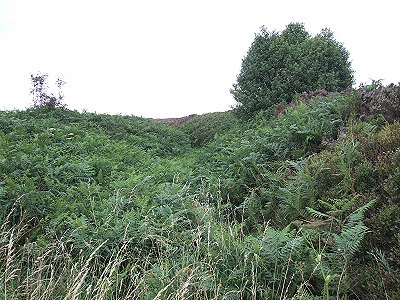 Bar Dyke looking northeast from SK245945 with the overgrown banks either side and the ditch in the middle.
Bar Dyke is a cross dyke earthwork of uncertain age that is bisected by a pair of minor roads on the eastern edge of Broomhead Moor. Although it is unexcavated it is thought it could be either
Iron Age
or post Roman although it could possibly have been constructed as early as the
Bronze Age
or as late as the Medieval period. It measures about 400 metres in length and follows a southwest - northeast course uphill from close to
Bar Dyke
ring cairn
to the edge of Canyards Hills and has banks that measure between 0.5 metres and 1.5 metres in height, the distance between the top of these banks being about 8 metres. The internal ditch is only about a metre wide with the deepest section of the monument measuring nearly 3.5 metres from the ditch to the top of the bank.
The earthwork could have been some form of territorial boundary or defensive structure but until it is dated conclusively it is only possible to guess its original purpose.

Back to Map
|
Home
|
Full Glossary
|
Links
|
Email: chriscollyer@stone-circles.org.uk