The Bull Stone
Bronze Age Standing Stone
Otley Chevin, West Yorkshire OS Map Ref SE20604351
OS Maps - Landranger 104 (Leeds & Bradford), Explorer 297 (Lower Wharfedale & Washburn Valley)
---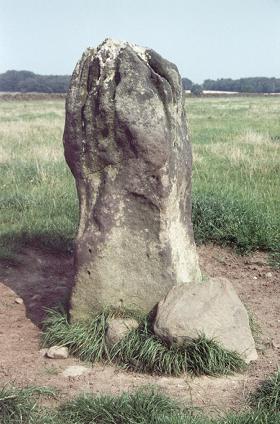 This is a single mill-stone grit standing stone of possible Bronze Age date that measures some six feet (1.8 metres) high and is highly weathered around its top. This weathering tells us that it has stood somewhere (not necessarily here) for a long time and is not just an animal scratching post erected by a farmer in recent years. The base however is of a more square section suggesting it may have originally been shaped to form a more regular profile.

This whole area is rich in rock carvings, especially Ilkley Moor, and it is possible that this stone formed a marker, perhaps on a route to the moor, or even as a territorial boundary stone.

To find it, follow the road that runs south of The Chevin and park in the pub car park west of the Chevin Lodge Hotel. Follow a footpath behind the pub and head south, passing through a gate then turn left and continue south alongside a drystone wall. The stone is on the other side of this wall a little further on.
Back to Map | Home | Full Glossary | Links | Email: chriscollyer@stone-circles.org.uk