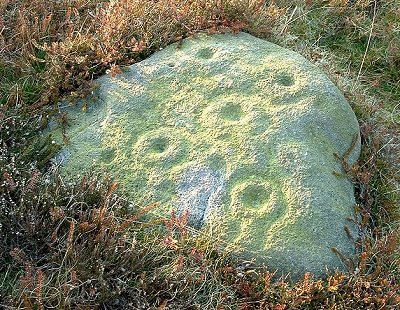 An unnamed stone at SE10774649 at Graining's Head. It has around ten cups, three of which have rings, two others have possible rings. (PRAWR 245)
Rombald's Moor is a large area of moorland roughly bordered by Ilkley in the north, Silsden in the west, Keighley in the south and Menston in the east. Within this expanse of gritstone, sandstone and shale are several smaller rather vaguely defined areas, the famous Ilkley Moor being but one part. Although much of the area now consists of rough land overgrown with heather, bracken and wild grasses and with many places waterlogged with peat bogs there is evidence that upland areas may have been reasonable hunting, grazing or later farming land as many flints dating back as far as the Mesolithic era have been found here. This human occupation continued through the Neolithic, Bronze Age and possibly into the pre-Roman Iron Age as well.
These ancient peoples left traces of their presence in the form of a stone circle called the Twelve Apostles, large burial cairns such as the Great and Little Skirtful of Stones, many small cairns, huts and enclosures such as those at Backstone Beck, as well as several monuments of unknown purpose such as the Grubstones and Horncliffe Circle.
However the moor is most well know for its rock carvings. These are earthfast boulders, large flat slabs or prominent rocks that have cups, rings and grooves cut into them and thought to date from either the late Neolithic or the Bronze Age. While some carvings consist of simple cups, others such as the Badger Stone, Hanging Stones and the Panorama Rocks have complex series of patterns (or motifs) combining many different elements. It is unclear what the original meaning of these carvings were and there have been many theories put forward to try to explain them - maps of springs and waterholes, starmaps, sun or moon symbols, tattooists shop windows, representations of shamanic trance states, receptacles for offerings of milk or blood, territorial boundary stones, and so on - it seems everyone who sees the rock carvings has a different theory. One thing we do know however is the many of the carved rocks occur in association with burial sites and it could well be that they had some ritual use in funerary rites, perhaps some even served as grave markers. Some of the stones also occupy prominent positions or offer good views, particularly those on the north of the moor overlooking the River Wharf valley. Although the carving occur across most of the moor, there are recognised concentrations in the north high above Ilkley, to the northeast along Green Crag Slack and in the south at Rivock Edge.

There are around 300 identified carved rocks on the moor - indeed others are still being found - and I have included some of the more interesting or well know stones in the Ilkley & Rombald's Moor section of the website. If you are interested in finding some of the others then there is a book titled 'The Carved Rocks on Rombalds Moor'* written by the Ilkley Archaeological Group that has been out of print for many years but I am told is being revised for reissue in spring 2003.

*Update
The book has been updated and published as 'Prehistoric Rock Art of the West Riding' by Boughey and Vickerman.
ISBN: 1 870453 32 8
All PRAWR numbers are taken from this reference.