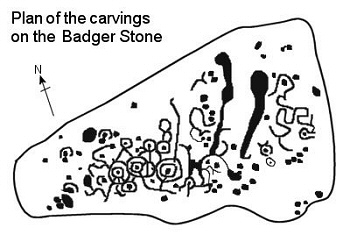 The Badger Stone is possibly the most impressive of the
carved rocks
on Ilkley Moor. Over a metre high and around 3 metres in length this bolder has a southwest facing flattish surface that is marked with a profusion of cups (around ninety-five), rings, interlinking grooves and gutters. At the eastern end there is a design that could represent an unfinished swastika although it is more angular than the one on the nearby
Swastika Stone
.
Depending on the weather and sunlight the rock can change from grey and featureless to a rich golden brown, resembling a miniature Uluru/Ayers Rock, with the carvings thrown into sharp relief. It may be necessary for several visits to the rock in differing condition to get a full appreciation of the complex designs.
It is possible that this rock was chosen for carving not just for its size, but also for its position. The photograph above is the view looking north towards the River Wharfe valley which partly hidden in the early evening mist. From here several other of the carved rocks on the moor are visible, or at least their positions are visible. These include the stones at
Weary Hill
and
Willy Hall's Wood
as well as the prominent
Neb Stone
. The importance of sight lines between stones may help to explain why some nondescript stones seem to be heavily patterned while others that would seem to be prime candidates for decoration have no carvings at all.
See also
Ilkley Moor & Rombalds Moor Introduction
Date:
Bronze Age