Willy Hall's Wood
Cup and Ring Marked Rock (PRAWR 258)
Ilkley Moor, West Yorkshire OS Map Ref SE116466
OS Maps - Landranger 104 (Leeds & Bradford), Explorer 297 (Lower Wharfedale & Washburn Valley)
---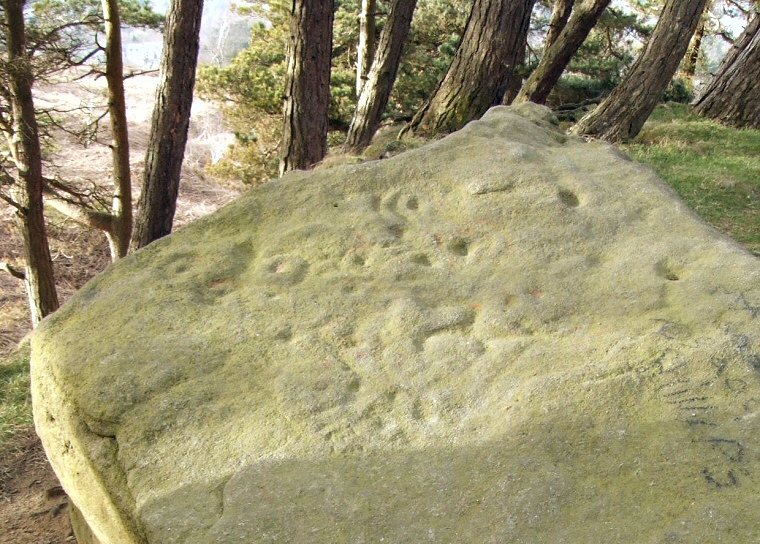 Close up view of the eroded carvings on top surface of the stone.
The carvings on this large boulder consist of about seventeen cups, some of which have rings and some with interconnecting grooves. Due to the position of the sun I was unable to get a decent photograph of the carvings on this visit - maybe next time.

Just beyond the carved rock is another boulder that has three large saucer shaped indentations - I thought they may have been man-made but found out later from a knowledgeable local that he believed they were natural.

This site is fairly straightforward to get to, although not necessarily easy. There is plenty of parking space at White Wells carpark - walk to the old pump house and then head due south uphill keeping the white building of the old bathhouse to your left and head towards the waterfall. Once you get there, there is a very steep climb up beside the small falls (there may well be easier routes round the side) that leads to the outcrop of land the forms the north end of Willy Hall's Wood which is a wonderful place with an air of 'sacred grove' about it. Continue south through the trees and just before they end you will find a large tilted stone with carvings across its southern face.


Update 2009:
A recent visit to the site in brighter light allowed me to get pictures which were a little better but the eroded nature of the carvings still make identifying them difficult. It's good to see that most of the traces of red paint that was daubed on the stone in 2003 have disappeared although some new graffiti is evident on the right hand side of the top picture.

PRAWR = Prehistoric Rock Art of the West Riding (Boughey and Vickerman 2003)

See also Ilkley Moor & Rombald's Moor Introduction

Date: Bronze Age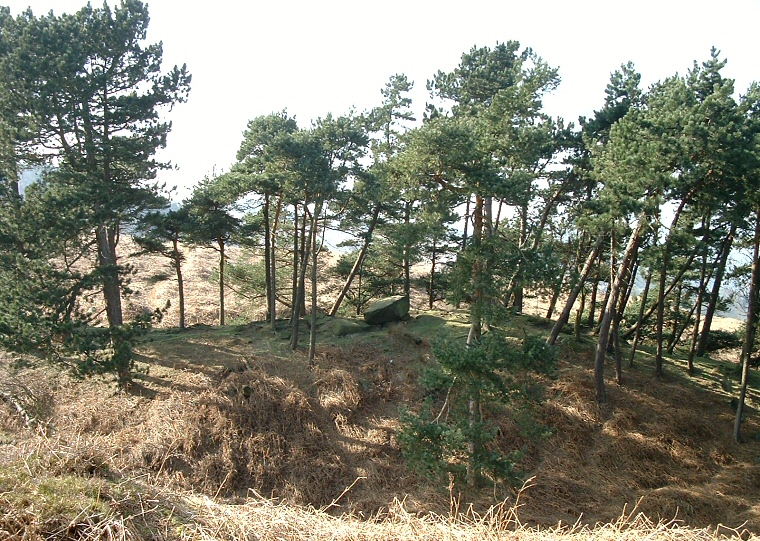 View looking across to Willy Hall's Wood stone in the centre of the picture.
Back to Map | Home | Full Glossary | Links | Email: chriscollyer@stone-circles.org.uk