Green Gates
Cup and Ring Marked Rocks (PRAWR 255, 256, 256)
Ilkley Moor, West Yorkshire General OS Map Ref SE114460
OS Maps - Landranger 104 (Leeds & Bradford), Explorer 297 (Lower Wharfedale & Washburn Valley)
---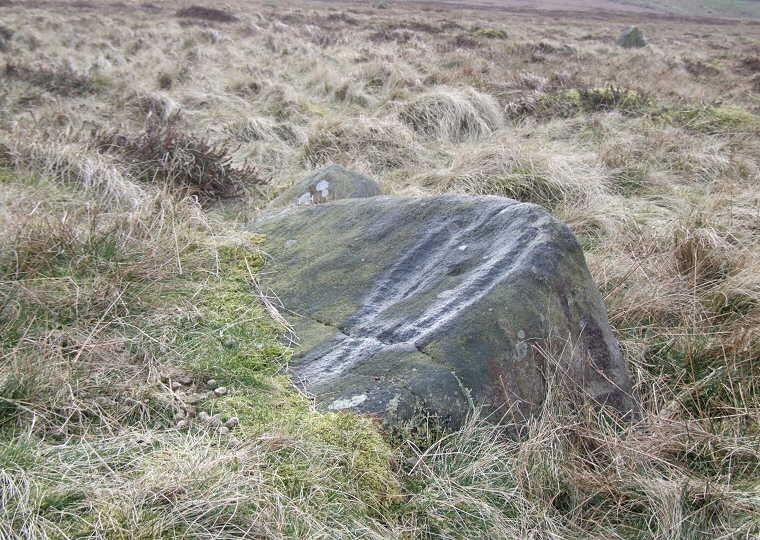 Stone 256 - The Pitchfork Rock
Green Gates is an area to the north of Ilkley Moor and to the south and east of the
Badger Stone
that contains three carved rocks.
All three are fairly simple designs, Stone 256 (photograph above) at OS grid reference SE 11497 46041 has been dubbed the 'Pitchfork Rock' on account of its design consisting of a flattened U shaped groove with a further channel emerging from the bottom of the motif. There is also a small cup between the 'prongs' of the carving.
Stone 257 at SE 11499 46049 (image below) has a finely carved cup and double ring design with a delicate gutter emerging from the cup. It also has a couple of other possible cups as well as two worn basins and a wide channel some of which may be natural.
A few paces to the south Stone 255 at SE 11417 46040 is a pyramid shaped boulder with half a dozen cups, three of which have single rings and small gutters (image at bottom of the page).
PRAWR = Prehistoric Rock Art of the West Riding (Boughey and Vickerman 2003)
See also
Ilkley Moor & Rombald's Moor Introduction
Date:
Bronze Age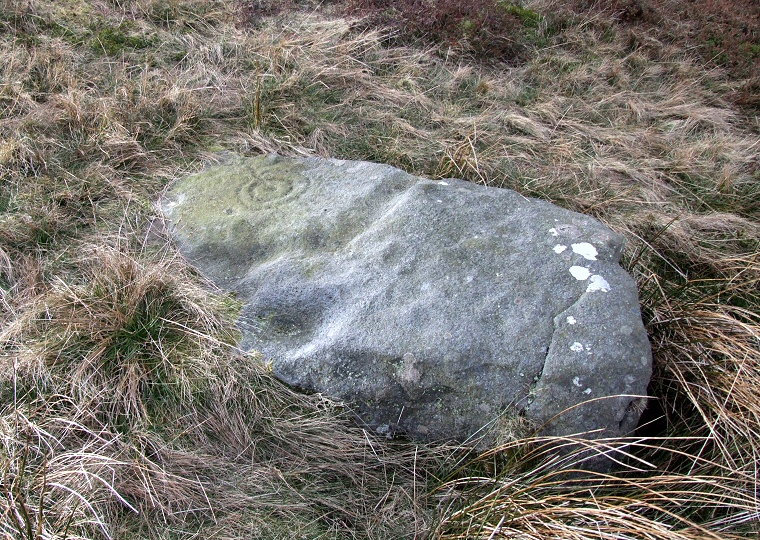 Stone 257 - A fine cup and ring design to the top left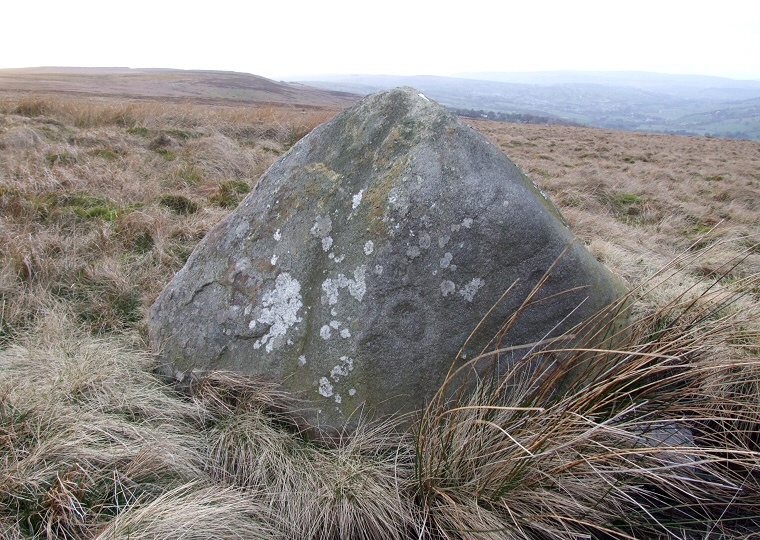 Stone 255. The carvings on this stone are quite badly eroded, here a cup and ring are just about visible in the centre of the stone.
Back to Map | Home | Full Glossary | Links | Email: chriscollyer@stone-circles.org.uk