Pancake Rock
Bronze Age Carved Rock (PRAWR 332)
Burley Moor, West Yorkshire OS Map Ref SE134462
OS Maps - Landranger 104 (Leeds & Bradford), Explorer 297 (Lower Wharfedale & Washburn Valley)
---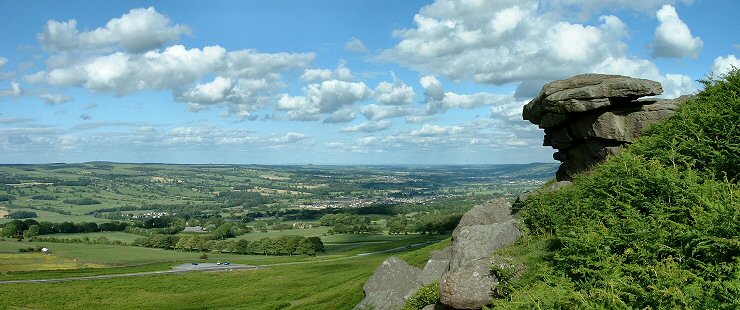 The Pancake rock to the right and the view southeast along the Wharfe Valley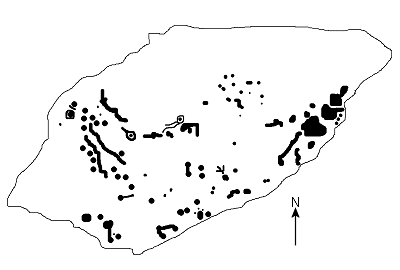 This carved rock stands high upon green Crag slack with fine views across Wharfedale. Balanced on the edge of a steep ridge the flat slab of rock is covered with over 50 cup marks as well as 6 complete rings and further half a dozen or so unfinished rings. However the exposed position of the rock means that erosion now makes it difficult to find many of these markings and the plan to the lower left of the page is copied from a published diagram.
The reason for the carving of the cup marks on this rock would seem obvious from the views of the surrounding landscape (see 180 degree panorama), but as always with this form of rock art the purpose of the carvings remain unknown.
The Pancake Rock is visible from some considerable distance and getting to it is fairly straightforward. Walk up past the Cow and Calf rocks and turn left then continue along the edge of Green Crag slack for about 700 metres. If you are feeling more athletic, walk along the the side of the road instead then straight up the hillside to the stone - a steep climb but well worth it.
PRAWR = Prehistoric Rock Art of the West Riding (Boughey and Vickerman 2003)
Glossary Item: Bronze Age


180 Degree Panorama
Back to Map | Home | Full Glossary | Links | Email: chriscollyer@stone-circles.org.uk