Silver Well
Bronze Age Cup Marked Rocks (PRAWR 238)
Ilkley Moor, West Yorkshire OS Map Ref SE105466
OS Maps - Landranger 104 (Leeds & Bradford), Explorer 297 (Lower Wharfedale & Washburn Valley)
---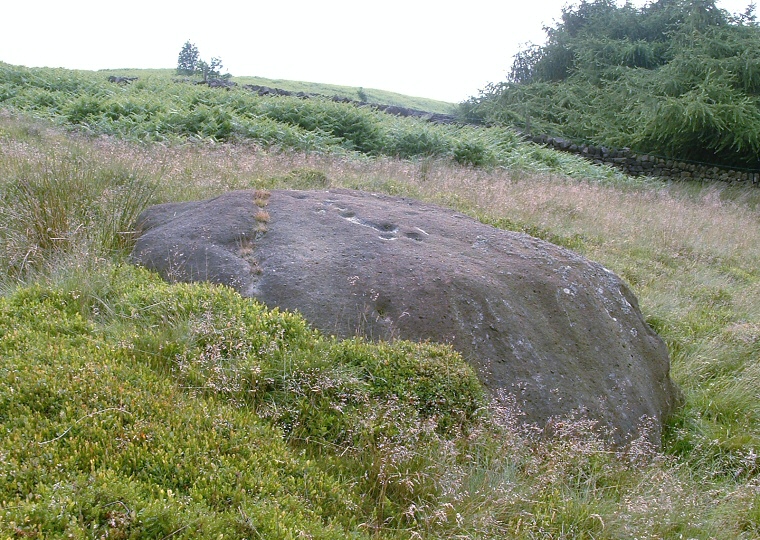 A little further down the hillside and northwest of the
Weary Hill
stone are four
cup
marked rocks close to the track that leads west from Keighley Road to Silver Well Cottage.
Two of these stones have a single cup each while the third has four cups, some of which could be natural. The fourth stone, just south of the track and shown here is a large rock that protrudes out of the undergrowth and has ten cups along its curved top surface. These cups are all roughly the same size and set closely together with two of them joined by a groove forming a dumbbell figure. As is usual with these
rock carvings
, what their significance or meaning might be is unknown.
PRAWR = Prehistoric Rock Art of the West Riding (Boughey and Vickerman 2003)
See also
Ilkley Moor & Rombald's Moor Introduction
Date:
Bronze Age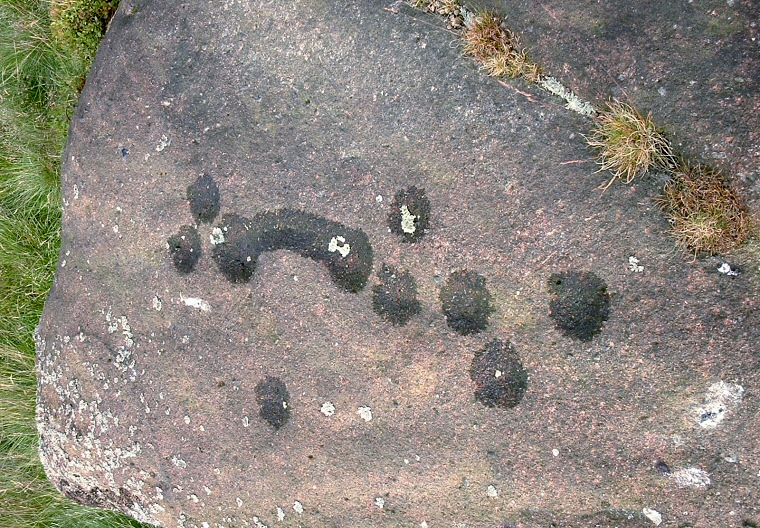 Detail of the carvings on the Silver Well stone.
Back to Map | Home | Full Glossary | Links | Email: chriscollyer@stone-circles.org.uk